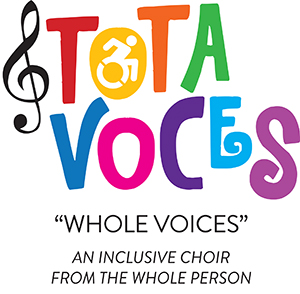 TWP is forming a community choir, Tota Voces, which is Latin for "Whole Voices."
Tota Voces, or "Whole Voices" is an inclusive choir from The Whole Person created specifically for individuals with disabilities to have a place to express themselves musically.  All are welcome, including friends, family, and advocates of the disability community.  We aim to come together as one in order to learn, grow, and perform vocally for the Kansas City area.   
The choir is open to all people 12 years and up, but geared to those with disabilities, and will be directed by Heather Schouten.  This newly-formed choir will perform at The Whole Person's July Jubilee on Saturday, July 29, and at the Midwest Ability Summit on Saturday, August 19.
Rehearsals are every other week through July 19 (*see below for next date).  There will be one extra rehearsal on July 26 in preparation for the performance on Saturday, July 29.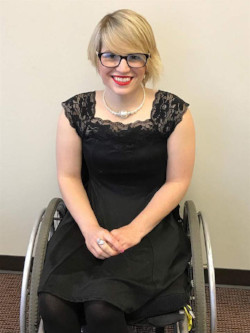 About Heather:  Heather Schouten was in a car accident and she sustained a spinal cord injury between T1/T2 when she was 4 years old. As a result of the injury, Heather has paraplegia. She has been an instrumentalist, playing piano since age four and violin since age ten. She avoided voice because she was told growing up that, because of her disability, she would never be able to sing properly. In college she fell in love with choral music, studied Vocal Music Education, and graduated with a Bachelor's in General Music Performance. She continued her education and is now one semester away from finishing a Master's in Choral Conducting. During the day she is the receptionist for Numotion, a mobility products and services (including manual and power wheelchairs) company in Kansas City.  Outside the office, Heather is currently the Interim Director for the Show Me Sound Chorus, a women's barbershop chorus in Sedalia, MO, and is the Assistant Director for the Kansas City Chorus, a women's barbershop chorus in Kansas City. She also teaches private music lessons and performs gigs around Kansas City when possible.
---
Tota Voces Upcoming Rehearsals
---
Join the Tota Voces (Whole Voices) Choir!
Please complete the form below to express your interest.
If you are interested in the choir but cannot join at this time, please indicate this on the form and we will include you on our mailing list about performance dates.