July Jubilee: Celebrating Independence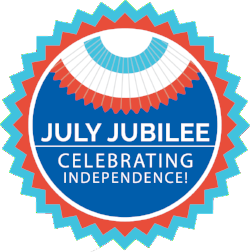 The July Jubilee is a 2-day celebration of the anniversary of the Americans with Disabilities Act (ADA).  Held annually, the Jubilee is a fun and festive community event that everyone looks forward to each year. Events held both days occur at The Whole Person, 3710 Main Street, Kansas City, MO, under our big tent!
Saturday, July 29, 7:00 am - 1:00 pm
7:00am - 1:00pm - Makers Fair and Flea Market (vendors will sell a variety of handmade items), live music and performances.
9:00am - 12:00pm - All-you-can-eat Pancake Breakfast Fundraiser by Chris Cakes. $7 Per person, $5 Children 10 and under (Includes Pancakes, Margarine, Syrup, Link Pork Sausage, and TANG)
Monday, July 31, 10:00 am - 2:00 pm
Community celebration with live band, speakers, food and vendors.
---
Sign up to be a Vendor at the Jubilee!
TWP is looking for Artisans, Makers and Flea Market Vendors to be a part of our "July Jubilee Maker Fair and Flea Market" on Saturday, July 29 from 7:00am - 1:00pm, outdoors at our building located at 37th & Main in Midtown.
(This is a link that takes you to our online vendor application for the Saturday, July 29 July Jubilee Maker Fair and Flea Market. We prefer that vendors apply online, but there is a link to a downloadable PDF on the application page.)
---
Sponsor the July Jubilee!
Sponsoring the July Jubilee on any level offers you the opportunity to highlight your company's philanthropic philosophy and commitment to people with disabilities. Your support provides you the unique opportunity to connect with the Greater Kansas City community, to build brand awareness and show your company's support of an important cause!
(This is a link that takes you to our online sponsorship information. Sign up early to received the most of your sponsorship benefits. In-kind donations are always welcome and appreciated.)
---