On July 26, 2020, the Americans with Disabilities Act (ADA) will celebrate its 30th Anniversary and we want YOU to celebrate with US and tell YOUR story!
How can you do that? It's very simple!
We are asking you to upload a video, or share a photo with your written words that shares how you celebrate the ADA and the opportunities it has provided you in your daily life. We will take your submission and share it on our social media channels and our website.
This will look different for everyone, so have fun and be creative!
Share any media of your choosing, (video, picture, written word, or other).  UPLOAD directly to The Whole Person using the form on this page.
Going to an accessible space?
Share a photo or video!
See an accessible business?
Take a picture and thank the owner!
Or, share what is possible thanks to the ADA!
Thanks to the ADA there are captions and sign language interpreters at theaters, concerts and ball games.
Thanks to the ADA there is tactile signage for people who are blind at museums, parks, office buildings, schools, hospitals and more.
Thanks to the ADA voter booths and transportation is accessible.  
Thanks to the ADA people with disabilities can requests accommodations that make working accessible and easier for them.
Thanks to the ADA a service dog can accompany a person with a disability to school, a job site, and places for shopping, dining, and recreating.
Thanks to the ADA people with disabilities can stay in public schools and receive accommodations to learn and succeed.
Thanks to the ADA many people with disabilities now live in their communities instead of institutions.
Thanks to the ADA accessible parks and recreational areas allows people with disabilities to enjoy their leisure time.
Thanks to the ADA tools for ensuring effective communication give people with vision disabilities access to documents, and websites.
Thanks to the ADA there are more accessible and inclusive practices throughout the US. Improvements include these items and more:  ramps, signs in Braille, TTY lines, sensory warnings, service animals, non-discrimination policies, accessible parking, Adaptive services and more!
Thanks to the ADA anyone with a disability can pass through once-closed doors into a bright new era of equality, independence and freedom!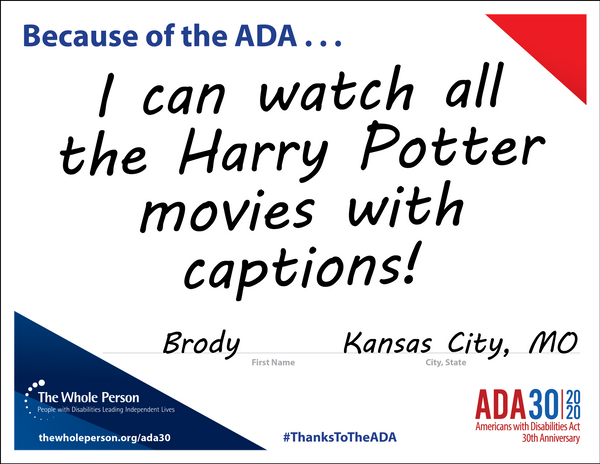 Download and share
Download and print this PDF. Complete the words "Because of the ADA ..." then take photo and share it with us!
Because of the ADA...
I was able to help other people with disabilities through my work. Help them make their dreams come true like mine have.
My parents have access to the wonderful sights the city has to offer - Plus they can now use public transportation to get there!
I can no longer be openly discriminated against for having disabilities in employment or education.