Main Street Music Festival Sponsorship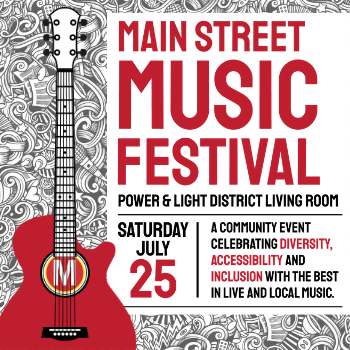 Main Street Music Festival
Saturday, July 25, 2020
3:00-11:00pm
Power & Light District
Living Room
The Whole Person's Annual Main Street Music Festival is an exciting community event celebrating Diversity, Accessibility and Inclusion with the best in live and local music.
Benefits of Sponsorship:
Your company product or service marketed to more than 2,000+ event attendees
Promotions reach thousands throughout the Greater KC area
Radio, television, billboards, magazine promotions, poster and flyer distribution
Social media promotions and press releases
Satisfaction of helping underwrite a free and positive family-friendly community festival
Please reserve your sponsorship by May 1, 2020 to receive the greatest range of benefits.
---
Sponsorship Recognition Deadlines:
To be recognized on event billboards:  Friday, May 1, 2020
To be recognized on event poster: Friday, May 22, 2020
To be recognized in event program:  Monday, July 6, 2020
To be recognized in press releases:  Monday, June 22, 2020
To be recognized in social media posts: (will be added as sponsorship secured)
The Whole Person offers several sponsorship levels for our events.  Levels represent increasing benefit advantages, such as the size and placement of logos and listings in our marketing materials, ads, signage, etc.
Required materials for all Sponsorship Levels (except Groupie)
EPS (vector) file of your company logo (very important to have this file format for use in a variety of marketing platforms - outlined fonts)
Event program ad in cmyk, 1/8 inch margins, submitted as PDF (with crop marks), outlined fonts.  We can also take Adobe Illustrator, Photoshop files. 
Contact Kim Krueger with any questions or for ad size specifications.
No items are currently configured.