Courtney Coy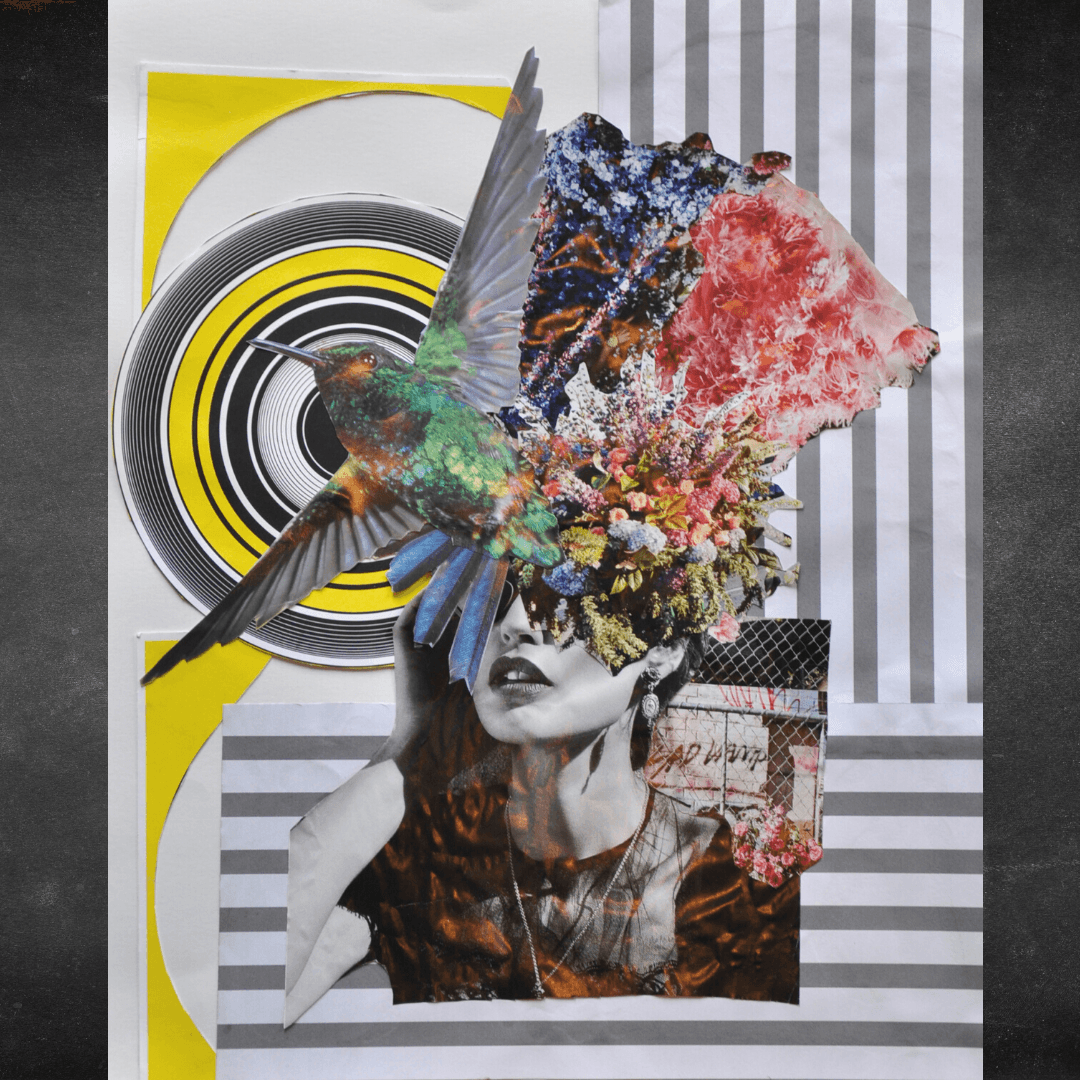 "Aflutter: Thoughts, Mood, Motion"
Created 2021; Collage, 14 x 17 inches; "My goal with this piece is to visually depict what a manic episode feels like. The bipolar experience is the subject with the shadowy background the foreground explodes with color and energy." - C. Coy
---
Courtney Coy
Kansas City, MO
Artist Statement:
Pop Culture, symbolism, art history, psychology, feminism and concept of self are subjects I often explore in my art. The randomness, absurdity, humor and beauty of life inspire me. I primarily work in mixed media, collage and painting. While selecting my art entries for the Expressions 2022 Exhibit, I noticed a subconscious link between the two pieces I've chosen to submit. Living with the invisible diagnosis of bipolar I disorder, by disability may not be immediately seen to the outside world, but it is something that I am constantly aware of. Survival, metaphor, self-awareness and the need to express my personal experience are themes connecting my work submitted for this year's exhibit.
How will participating impact you as an artist with a disability?
Participating in the Expressions Exhibit would be an opportunity to use my work to engage the public in a conversation about what it is like to live with mental illness. The bipolar experience doesn't neatly manifest itself in a uniform wat to everyone. The challenge to understand it and find personal perspective is a lengthy process. Through my art, I've attempted to articulate living life with disruptive emotional extremes and the precarious balance required to achieve and maintain a healthy state of mental wellbeing.
Purchase information:  Courtneymarie1915@gmail.com or visit www.facebook.com/DadaGrrrl
Years exhibited in Expressions:  2021, 2022