Lynndanna Stematz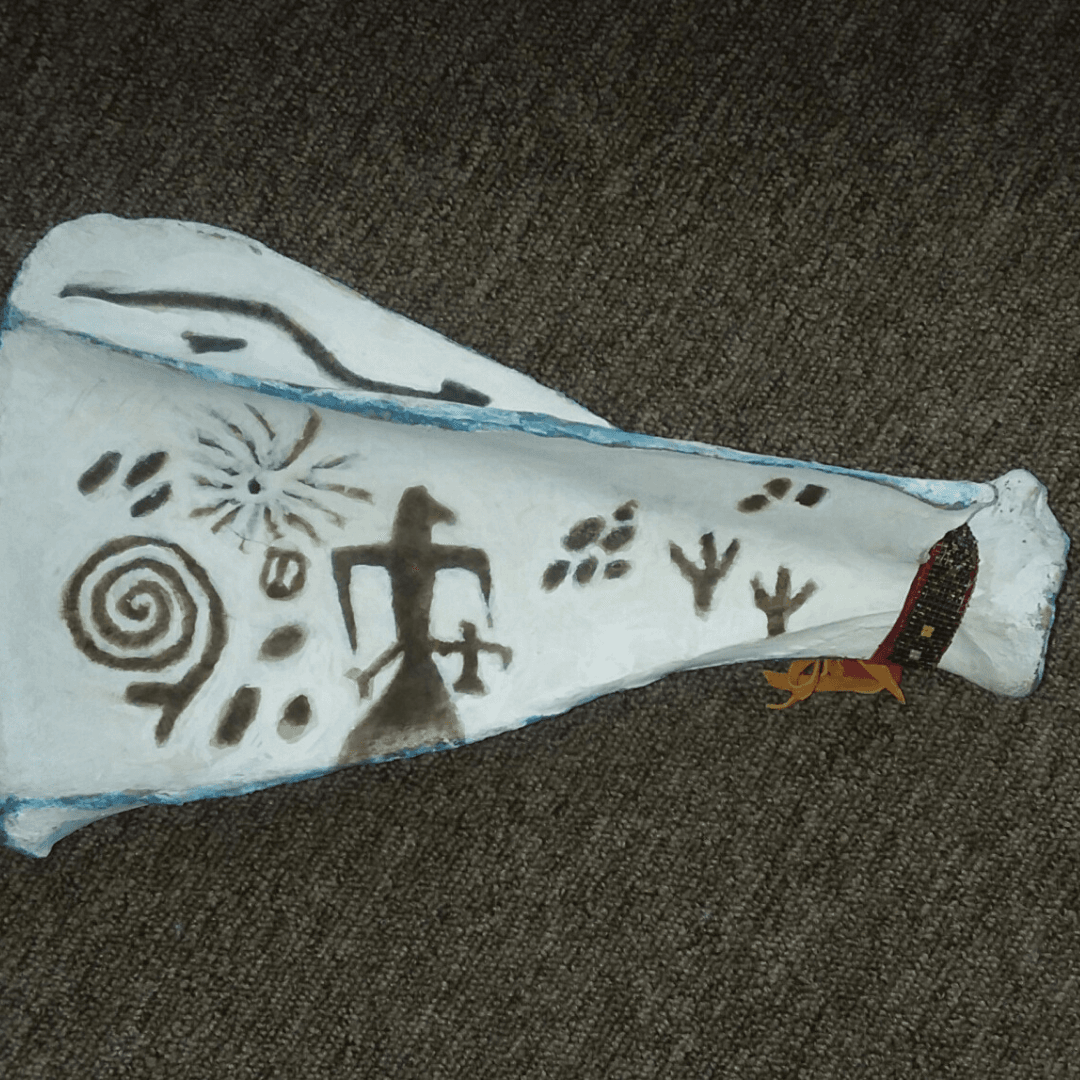 "Bison Honor"
Created 2022;  Sculpture, 14 x 7.5 x 5 inches;  "This sculptural piece has been several years in the making. I found the bison scapula near a river in Montana where I was filtering water to drink. The images are from a 1000 year old petroglyph site at Washington State Park here in Missouri. I have visited the site several times to photograph and draw. I made the brown ink used in the images from walnut hulls. I used a wooden loom to make the seed beadwork wrapped around the end. The beadwork design represents both stars and snake patterns." - L. Stematz
---
Lynndanna Stematz
Kansas City, MO
Artist Statement:
I am a Native American lesbian living in Kansas City. I make art to forge connections. I feel that when another person views my art they are offered my unique perspective. Viewers bring their own ideas and interpretations with them, so the exhibition and viewing causes a sort of dialog to happen. I struggle to connect with others. Art allows me that connection I wouldn't otherwise have. I make art based on my life experiences. I am most inspired and comfortable out in Nature. Nature and the Natural world are my focus. I use whatever medium I think will work for what I am trying to express, from oil paint, to photography, poetry, leatherwork, beadwork, acrylic. My intention is to honor and share those places and experiences that I have found especially beautiful and grounding. I have been exploring making my own pigments. Some of the browns in these images are from a batch of walnut hull ink that I have made.
How will participating impact you as an artist with a disability?
Being chosen for Expressions art show this year would give me a place to show my current work. I thoroughly enjoyed having a piece in last year's show. I love having an opportunity to be in an art show and have others see my work. This show is an important social outlet for myself and other artists that have.
Purchase information:  Leatherisalive@gmail.com
Years exhibited in Expressions:  2021, 2022