Master Artist Workshops
The Expressions Committee sponsors Zoom Workshops which feature artists in the Kansas City area who share their expertise, techniques and insights to our Expressions Exhibition Artists and the community.

Expressions showcases artists with disabilities, celebrating their abilities and unique talents. Expressions strives to promote artists with disabilities by featuring their work in professionally organized art exhibitions and offering innovative educational and networking workshops that connect them to the broad regional creative community.
---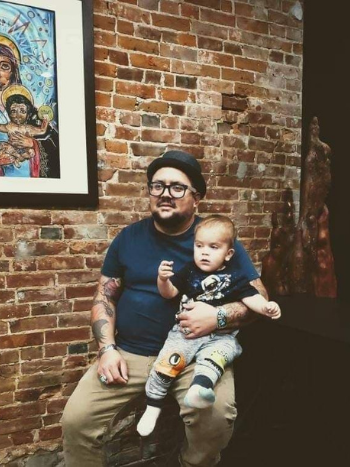 Chico Sierra
As a multi-disciplinary artist my goal is always to move people. I aim to either change their understanding or verify their ideas.  Through sculpture, music, photography, murals and illustration, I've created a lexicon of symbolism that fits into each medium. My work is political and at the same time very personal. Growing up in a multi-ethnic/racial family in poverty surrounded by folks economically ostracized, I believe I was gifted with a unique empathy. This empathy allows me to find pressure points in society's psyche, and then exploit those points to challenge deeply held notions. Within my work I include symbols of my mixed heritage and different influences from pop culture, science fiction, and spirituality.
There is a mingling of ideas and subjects that are unexpected in messages of social justice, but make sense in the context I create. In that creation I explore a future and a past rewritten to include people of color as deities and heroes in a very real struggle. I look to expand on my artistic vocabulary and activism in the region and explore the best ways to communicate with people of varying backgrounds by using different mediums. (from chicosierra.com)
---
Kathryne Grimm
On Friday, June 19, 2020 at 6pm, Artist and Disability Rights Activist Kathryne Grimm discussed how to effectively communicate with galleries, how to discuss access needs with a gallery, how to apply for exhibitions, and an introduction in how to plan for an exhibition. The talk concluded with an artist Q&A. 
Kathryne Grimm is an award-winning and nationally exhibited fine art conceptual figurative photographer and queer trans disability activist whose artwork focuses on using femme and non-binary bodies to initiate a dialogue about issues facing the disabled. They were the recent subject of the short documentary "Kathryne: Uncensored" where they discussed accessibility in the arts, and their artwork has been published in various literary journals and art magazines. Kathryne's activist work has led to numerous lectures and presentations on disability rights and issues facing the disability community, including ableism in media narratives and representation.
They currently sit on the board of the Kansas Disability Caucus and on the Expressions curatorial and organizing committee through The Whole Person as their Disabled Artist Representative. Kathryne's current activism and art focus is breaking down the barriers of how disabled bodies are viewed in contemporary art and in society, bringing awareness to the lack of accessibility within the Kansas City arts scene, and discussing the intersection of Domestic Violence, Disability, and Queerness. They currently reside in Kansas City in a very dark and Edwardian-inspired apartment with their elementary school aged child and an apocalypse-ready sized stash of green tea.
---
Margaret Kinkeade
Margaret Kinkeade hosted a Zoom presentation on May 30, 2020 from 1pm-3pm from her home studio. She began the presentation with a short introduction about her personal and educational background as well as how she ended up in Kansas City and what her practice looks like these days. Her demonstration focused around making a hand-built mug and will include using paper templates, slab construction, handle making and attachment. She also included a discussion on her surface patterns and methods which include mishima and sgraffito techniques.
Margaret Kinkeade completed her BFA in Printmaking at the University of Oklahoma and then went on to earn her MFA in Ceramics from Pennsylvania State University. Margaret's studio practice focuses on collections, community, and objects of the American craft tradition through hand built ceramic objects. She encourages her students to experiment, discover and push their material to best explore their own narratives. She believes that when makers pull inspiration from as many areas of experience, history and thought as possible they are better able to construct objects that speak to others while speaking of themselves.