Great things happen when you give!
Your gift to The Whole Person will help us connect people with disabilities to the resources they need, strengthening our mission to provide vital programs in the Kansas City Metro Area.
Advocates of Honor Giving Club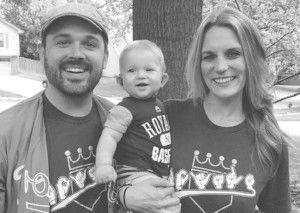 Ian and Lindsey Denney with son Fletcher
When you join The Whole Person's Advocates of Honor, you join a passionate group of people which donate monthly, immediately enabling us to provide support for vital programs which empower people with disabilities to live, work, and enjoy their lives with independence, opportunity, and dignity.
As a member of our Advocates of Honor Giving Club, you will get recognition on our website, in our newsletter, in our annual report and in the program for our annual Gala.
If you prefer to speak with us regarding our monthly giving club, contact Hayward Lafferty at hlafferty@thewholeperson.org. We have options that will allow you to be invoiced or choose your monthly giving date.
If you prefer to share your information in paper form, click above to download a PDF giving form. Complete and email to Mitch Chalk at mchalk@thewholeperson.org.
---
I/We want to join the Advocates of Honor Giving Club!