CHANGE for change!
There are over $10 billion U.S. coins currently gathering dust as spare change in piggy banks, purses, cars and old cookie tins in homes all across America. The Whole Person (TWP) could benefit from a small portion of this loose change.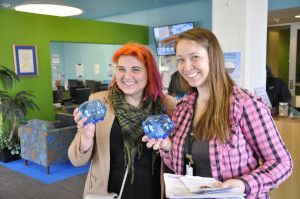 Thank you Kay and Megan for supporting TWP with your loose change!
We are offering collection piggy banks with the TWP logo on them, to be placed on your desk, at your church, at the beauty shop, gas station, and cleaners located all around the town where our staff, board, volunteers and consumers work and live.
All we need is YOUR help in getting the piggy banks distributed and placed in these locations, and for YOU to check back periodically and empty them and deliver the loose change back to The Whole Person.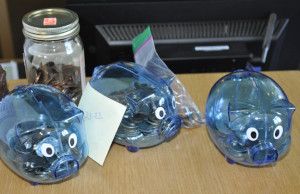 It's Easy!
Business owners are more likely to allow a fundraiser if they know the person asking is a regular customer. Make a list of who you know and start asking.  Privately owned places are easier than corporate owned businesses.
The best places to position your collection jars are at any location that deals with cash and has an employee nearby to keep a watchful eye over the coins. Coffee shops, donut shops, fast food restaurants, diners, grocery stores, checkout lines, convenience stores or gas stations, card shops, hair salons, cleaners, florists, boutiques and other places that deal with coins on a regular basis are ideal. Think outside the box and don't be afraid to ask---they might just say YES!
Stop by or call the TWP office and pick up your pig(s) today, or call us and we will mail them to you. Don't forget to save one for your desk or in your home for your family and friends to donate. Consumers are more than welcome to participate!
Simply download the form on this page to get your bank.  Fill out a form for every place you leave a pig, yourself included.  Be sure and ask for permission from the manager/business owner before leaving a pig at any establishments.  Fill out a form for every location that you leave a pig.  Leave a copy with the business, keep one for yourself so that you can track your pickups and get one to the TWP office. Each form will have your contact information for the business owner.
 Tell the business manager/owner that you will check back periodically or ask him to call you if the bank gets full.  The form will have your information, the names of 1 or 2 other people who are authorized to pick up the money and it will have TWP's contact information on it as well.
Plan to collect money at least once a month and plan to drop it off at TWP at least 4 times a year or as needed.  You can empty the change into a ziploc bag and save it to be turned in at TWP next time you come here or on specified coin drop off days throughout the year.
---
Would you like to make a direct donation to The Whole Person?
If so, click here to go to our Donation Page.
---
DOWNLOAD INFORMATION: