The Whole Person headquarters reflects the best that Universal Design has to offer.
Our work environment is not only aesthetically enjoyable, but usable for everyone regardless of age, ability, or status in life.
The following is a list of universal design features of our building:
Parking Lot grading - completely accessible - more accessible parking spaces than required by code. Tooled detectable warning strip around perimeter of parking lot.
Ramped primary entry - second accessible exit at ground floor
Automatic sliding entry door system at primary entry - hands free access
Reception desk designed to accommodate wheelchairs
Raised access floor system - better air quality, quieter system
Interior paint/floor colors and patterns as visual wayfinding (Wayfinding refers to information systems that guide people through a physical environment and enhance their understanding and experience of the space.)
High color contrast between floors and walls - 7 feet wide hallways
Use of textural carpet to create detectable zones adjacent to columns
Two elevators with "oversized" cabs to easily accommodate multiple wheelchairs
Eliminated restroom doors for hands free access - 5' wide restroom stalls - accessible fixture heights - family/private rest room on each floor
Indirect lighting for even lighting in work areas
Universally designed room signage
Service dog shower to wash off salt/dirt
Door hardware that requires low physical effort
Areas of refuge provided, although not required by code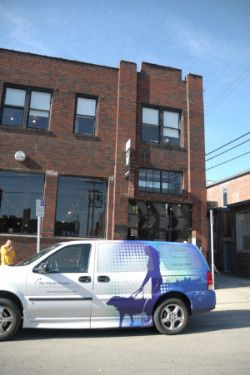 Businesses, groups and organizations are encouraged to schedule a tour of our universally designed building and listen to a presentation about people-first language, disability etiquette and the programs and services offered by The Whole Person.
Please complete the form below to schedule a tour!
Please complete the tour/visit request form a month before your preferred date. We will work to accommodate your request to the best of our ability.