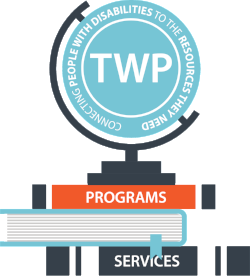 Sign up for a TWP 101 Class!
TWP 101 Tuesdays!
TWP 101 Tuesdays are small group sessions where we present the basics about The Whole Person (who we are, what we do, who we serve and how you can help).
Sessions in 2021 meet on the 3rd Tuesday of each month from 11:45 am - 1:00 pm.  You can choose to attend in-person at The Whole Person, 3710 Main Street, Kansas City, MO or via Zoom.  Kansas City Missouri guidelines for social distancing, including the wearing of face masks, will be strictly enforced.
These popular sessions are informal gatherings that begin with a building tour at 11:45 am.  Free box lunches are provided for those attending in person.  Each session ends promptly at 1:00 pm.
Those attending TWP 101 are from many spheres of influence in our Kansas City Metro Area, including local businesses, non profit organizations, community groups, and government agencies.
NOTE: In-person sessions are limited to 8 people on a first-come, first-served basis.  If your desired session is full, you will be notified immediately for an alternate date.