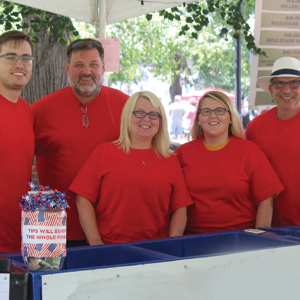 Volunteers are the heart of The Whole Person.
There are many ways that we can put your talents and skills to work. Whether you are an individual, church, club or corporation, or have a lot or limited amount of time to give,  we have a variety of volunteering options that will work for you.
For more information, contact Kelly Grooms, kgrooms@thewholeperson.org.
---
Volunteer Opportunities for 2022
Expressions Art Exhibition

Expressions Art Exhibit Opening Night Reception, March 4, 2022, 6:00-9:00pm. This art exhibition showcases artists with disabilities who otherwise do not get their work shown in a professional setting. The Exhibition includes the opening night, held at Rochester Brewing and Roasting Co., 2129 Washington St, Kansas City, MO 64108, and a traveling exhibit of the art displayed throughout the Kansas City Metro area over the following year.

Planting Independence

Planting Independence will take place on April 22 (Corporate Day) & 23, 2022. This is a KC Metro-wide yard clean up at some of our consumers' homes. As you can imagine it is difficult for some people living with a disability to keep up on their yard maintenance, so we try to get their yards taken care of.  We work all around the city in groups of 8-10 people. The hours are 8:30 am until around noon, depending on how long it takes the group to finish with the tasks. Planning committee forming now.

The Big Dill Classic Pickleball and Cornhole Tournament

The tournament will held at Chicken & Pickle, 5901 W 135th St, Overland Park, KS on June 5, 2022. The 2nd Annual Big Dill Classic is a pickleball/cornhole fundraising tournament benefiting our Adaptive Sports program. Volunteers are needed to assist with running our tournament, guest services, silent auction, and more.

Night of Independence Gala

The Night of Independence Gala will be held on September 16, 2022. The Night of Independence Gala is a unique evening which honors individuals and organizations that are working to further The Whole Person's mission to assist people with disabilities to live independently. The event will be held at Arrowhead Stadium in 2022.
Volunteers are needed for set up/tear down, staff silent auction, greet guests, and variety of tasks. Planning committee forming now.

Adaptive Sports

TWP needs help supporting people involved in our adaptive sports program. In 2022, needs include assistance with our wheelchair tennis program, power wheelchair soccer program and the new track and field program. Additional activities occur throughout the year.
---
For all other Volunteer Opportunities complete form below:
Complete this form ONLY to volunteer for activities not listed above.