Bloc Life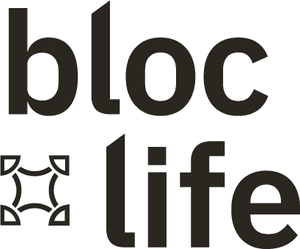 The Whole Person partners with Bloc Life Inc and their Adaptive Athletes In Motion Program every Monday, Tuesday. Thursday and Friday for weightlifting, exercise classes, and community health! More days are available to participate and additional events to participate occur through a network of conveniently located gyms.
Volunteers are needed, no experience is necessary to help athletes of all abilities maneuver into sets, encourage them as they work, and be a spotter for them while they exercise.
Bloc Life Inc provides 90-day complimentary memberships for athletes with disabilities, veterans, and first responders to come to be a part of supportive fitness-based communities. After 90-days, athletes with disabilities can apply for a needs-based scholarship for a membership to continue. You are welcome and encouraged, to sit and watch a class before you begin.
---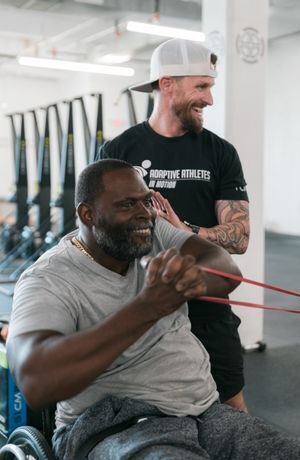 Mission Statement
The mission of the Adaptive Athletes In Motion (AAIM) program is to develop an "I can" attitude in the disabled community. We will accomplish this through free access to safe and inclusive wellness services and fitness programs for disabled persons.
About Bloc Life
Bloc Life, a non-profit 501(c)3, supports the Adaptive Athletes In Motion Program (AAIM) by providing weekly exercise classes designed for adaptive persons to further develop their "I can" attitude. The AAIM program is led by certified professional trainers and highlights the importance of eating well and exercising consistently. We believe that there are great opportunities to provide a more inclusive space for all adaptive athletes to grow and highlight their abilities. The AAIM program has created an environment that builds consistent healthy habits where you can meet new friends and achieve your fitness-based goals. It is our hope that we can enrich the lives of the adaptive athlete community and help them live longer and more fulfilling life.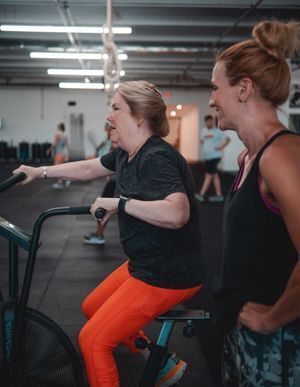 Testimonial
Shelia Styron, The Whole Person Blindness Low Vision Specialist II, is a blind athlete who has been working out at Bloc life for the past several months.
"Melissa and I were blown away by our first visit to a one-of-a-kind gym where anyone can get fit. There is plenty of open space for wheelchairs to navigate in a completely accessible workout environment, and for individuals who are blind or have low vision, equipment is arranged to facilitate easy access with volunteer assistance until no longer needed. Designed with sensory, cognitive, low vision, physical, and wheelchair access in mind. Exercises are provided for athletes to raise their heart rates, lift more weight, and find more movement in their daily activities. Exercise empowers people to live more independent lives and also helps to keep joints healthy, build muscle, lose fat, and make hearts strong. You can do this!"
---
Coaches
Brave Enough CrossFit
1527 Howell St, North Kansas City, MO 64116
Monday, Tuesday, Thursday, and Friday; 12:00pm and 4:00pm

Kansas Athletic Club,
14875 Metcalf Ave, Overland Park, KS 66223
Monday, Tuesday, Thursday, and Friday ; 10am
Open house event Dec 10th.

Samantha Walker

Mission Barbell Club
5916 Maple St, Mission, KS 66202
Monday, Tuesday, Thursday, and Friday; 10am
---
Contact Information
Josh Snyder, Program Founder/Director
Bloc Life World Headquarters
1527 Howell St., North Kansas City, MO 64116
Phone: 712-292-0215
Email: bloclife.org/contact-us
 Want to volunteer?
Fill out the contact form on bloclife.org and Josh will get back to you.