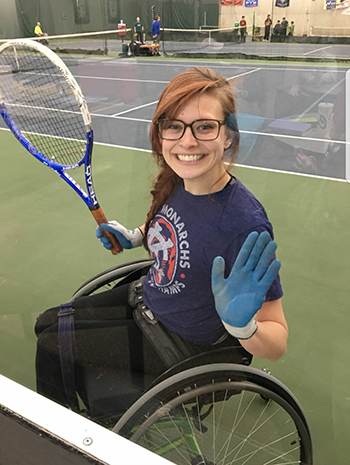 Hilary Muehlberger
Sport:
Tennis 
Hilary's Story:
Growing up I was a very active child. I played lots of team sports; soccer, volleyball, dance, and track. I was very involved in school activities and community service. After I graduated I continued to participate in soccer and beach volleyball for the love of sport and staying active. In one night that all seemingly changed. On September 12th, 2015 I had been drinking and didn't feel comfortable driving myself home. I asked a friend to drive me, I thought he was sober. I made the choice to get in the car with my friend, half a block from the bar we left the driver crashed us into a house at 50mph. When I woke up in the hospital 2 days later the doctor told me I had a 17% chance of ever getting out of a bed on my own. I spent two weeks in a hospital in Overland Park, KS. After that I spent another 2 weeks in a Rehabilitation Hospital with hopes that I would leave there able to care for myself. I was quick to learn how to take care of myself and moved into an apartment completely independent 5 months after the crash. I have been very determined to live a fulfilling life, a life I didn't expect to involve competitive sports.
Little did I know 2 years after the night that changed it all, my sister approached me about a group called Midwest Adaptive Sports one of her co-workers informed her about. I sent an email not knowing what would come of it. I received emails back from multiple sports including rugby, snow sports, and tennis through The Whole Person. I did a little research and saw how competitive the tennis players were and saw my chance to get back in the game.
Never having picked up a racket I went to my first practice. I found a group of competitive athletes. They were not defined nor held back by their varying physical disabilities. They were there for the love of sport and competition. I was home.
Today I have competed in 2 tournaments so far. Recently I competed in the Wheel it Forward tournament hosted in Kansas City by The Whole Person, where I took 1st in women's singles in my division and 2nd in doubles. I am so proud to represent this team and incredibly honored to be associated with these beautiful people.
Today I am stronger physically and mentally. The Whole Person has given me back a part of my life I never expected. I have a confidence in myself that I never had, even before the accident. Through this program I believe anything is possible. Watch out 2020 Tokyo Paralympics, I am coming for you!