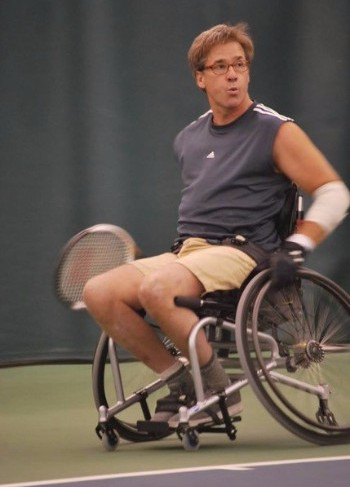 Brian McMillan
Sport:
No Coast Wheelchair Tennis Player
Accomplishments:
3rd place in B Doubles at the 2017 U.S. Open
Brian's Story:
I'd been a competitive tennis player as long as I can remember. Certainly since I was in short pants. When I woke up in St. John's  ICU, a T4/T5 complete paraplegic, I knew I'd never walk again, much less play another tennis match. Well as Mark Twain said, "It ain't what you don't know that gets you in trouble. It's what you know for sure that just ain't so."
I was an athlete before my injury so months after my injury, I bought my first hand cycle. It was huge. It was my sole outlet for all the pent up angst I was sitting with every day. As a runner, I never understood what people were talking about when they spoke of a "runner's high" or feeling endorphins from working out. My point here is that high was my normal state of mind. Well after months of sedentary life in a wheelchair, the first time I rode that hand cycle, I was introduced to the "runner's high." I was awash in endorphins.
One day I saw a video of Esther Vergeer, a Dutch tennis star with a disability, who won Wimbledon in 2009, 2010, 2011. She blew me away. She could've beat me when I was able bodied. I made the erroneous assumption that WC tennis was for paraplegics with low level injuries. I was doing all I could just to stay upright in my wheelchair, much less race around the court and rip crosscourt volleys Rafael Nadal would be proud of. So I wrote off ever playing WC tennis. Clearly contempt prior to investigation.
Ten years into my injury I was invited to attend a WC tennis clinic. I figured what have I got to lose? I think I went mostly because I knew the guy putting it on. I wanted to support him and I didn't want people to think I had a bad attitude. I certainly didn't go thinking I would or could play tennis again. I'd never sat in a sports chair before. It was so unbelievably quick, nimble and responsive, I almost fell out of it. Comparatively, it was as if my street chair was my father's Crown Victoria and the sports chair was my Alfa Romeo Spider.
If asked what my best day on the court had been, I'd have to recount a three hour match in Lincoln, NE. I won the first set in a tiebreaker. High on that win, I coasted into the second set resting on my laurels. Next thing I knew I was down 4-0. I had a moment of clarity, a gut check moment. I told myself what I was doing wasn't working. I needed to butch up and bring something different to the match. I realized it was unlikely I was going to win the second set, but I had to make a stand, I had to change the momentum, I needed to win a few games if I were to have a chance of winning the third set and the match. So I dug in and lost the second set 6-4. I eventually won the match in a third set tiebreaker. The invaluable lesson I took away was knowing I could change what wasn't working. I could turn things around. It's true what they say, "It's not over till the fat lady sings."