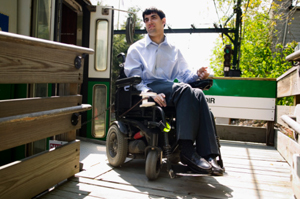 The Whole Person may be able to help you apply for Social Security Disability Benefits, or assist you in appealing a denial for benefits.
If you are disabled and unable to work per Social Security Administration rules, you may qualify for Social Security Disability Benefits through the federal government. The application or appeals process can be an overwhelming, time consuming and difficult process. The experienced Benefits Specialists at The Whole Person (TWP) can help you make the process easier to understand and navigate.
It is imperative you begin building your Social Security Disability Case as soon as possible! Many steps within the application process are time sensitive, as mandated by the Social Security Administration.
Once you make your initial phone call to the TWP Benefits Specialists, they will schedule a time to meet with you in person to discuss your particular situation. They will ask about your medical history, work history, functioning and limitations. They will also provide you with a detailed list of what documentation is needed for them to further research your possible Social Security Disability claim.
After you provide the requested information, the TWP Benefits Team will assess your case in full and determine if TWP can offer you our services and represent you in your Social Security Disability claim. They will review a fee agreement with you at that time.
How will The Whole Person's Benefits Specialists aid you in the Disability process?
We will assist you in completing the application(s) for Supplemental Security Income (SSI – Title XVI Benefits) and/or Social Security Disability Income (SSDI – Title II Benefits) and answer your questions along the way.
After the local Social Security Office reviews your application, they will assess your eligibility for various benefits. They will then forward your claim to the local office of Disability Determination Services (DDS) for the State of Missouri. That office will conduct a medical and vocational review, including reviewing medical records, physician statements, your work history and job demands, and information related to your functioning and limitations. SSA and DDS may find it necessary to send you to a physician for a consultative examination, which will be at the expense of DDS. Also in this process, the SSA and DDS offices will continue to send you forms to complete in a timely manner.
The Whole Person's Benefits Team will aid you in understanding each form, what SSA/DDS is requesting from you, and how to efficiently relay the information requested in accordance with SSA/DDS's deadlines.
We will also advocate for you in direct correspondence with the SSA/DDS offices, as needed. TWP will keep you informed of the status of your case with the Social Security Administration and the State Disability Determinations Service Office as your claim progresses.
The Disability Determinations Services Office will make a recommendation of an allowance or denial of benefits based on the totality of your case review. The Social Security Administration then makes the final decision as to if you will be allowed or denied SSI/SSDI benefits, and the onset date of those benefits. The Whole Person's Benefits Specialist will help you understand this determination and the reasons stated for the decision.
Should you decide to appeal the decision to the hearing level, TWP will aid you in that process as well. We will help you create your disability case to present before an Administrative Law Judge and our attorney will be present with you at the hearing.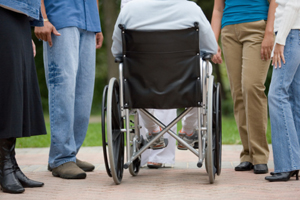 ---
FACTS AND QUESTIONS
Who can apply for Disability?
Anyone who is a United States citizen or Legal Alien of the United States has the right to apply for Disability Benefits. Which specific benefits you may qualify for is determined by your work and income history.
How long does the Social Security Administration take to make a decision?
Each case is determined on an individual basis, thus there is no specific timeline by which SSA must make a decision. SSA does have procedures in place to expedite some cases based on specific medical criteria.
Is every Disability claim denied at the first level of application?
No. Again, every case is reviewed on an individual basis. Cases are allowed or denied for many reasons. Your Benefits Specialist will be able to explain the various reasons with you upon your initial meeting at The Whole Person.
Do I have to be in medical treatment before I apply for disability?
Per SSA rules, a disability must be a medically determinable impairment and must be documented by signs, symptoms, and medical findings. SSA considers treatment and compliance when reviewing a Disability claim. If you are not currently in treatment for your disability, you could still apply for SSI/SSDI. Some SSA policies allow for consideration of the reasons one is not currently undergoing treatment for some impairments.
DOWNLOAD A FLYER:
---
For a Free Consultation about Social Security Disability Assistance, call us at 816-561-0304.
---
The Whole Person's Legal Team:
Tom Sweeny, Attorney at Law; tsweeny@thewholeperson.org
Karen Gridley, Paralegal; kgridley@thewholeperson.org