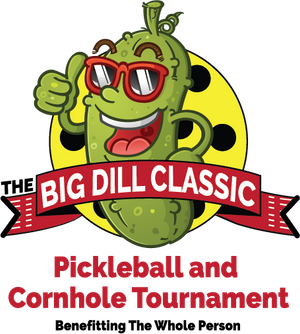 The Big Dill Classic Pickleball and Cornhole Tournament
Held on Sunday, June 5, 2022, 5:00 - 8:00pm
Chicken N Pickle Overland Park
5901 W 135th St, Overland Park, KS 66223
The 2nd Annual Big Dill Classic Pickleball and Cornhole Tournament, an event benefiting The Whole Person's Adaptive Sports programs, was a "dill" of a success! Once again, The Whole Person teamed up with Chicken N Pickle in Overland Park for a fun event. The Classic featured a Pickleball Tournament with 18 teams, and a  recreational Cornhole tournament with 16 teams. Prizes were awarded to the top two teams in each tournament.
Pickleball Tournament winners were:
1st place - Team Abreu/Brundige, players Rafael Abreu and Chace Brundige
2nd place - Team The Grahambino's, players Jeremy and Jeb Graham.
Cornhole Tournament winners were:
1st place - Team The Whole Enchilada, players David Burns and Christy Ray
2nd place - Team FORVIS, players Konnor Dugan and Weston Littrell
SAVE THE DATE!  The 3rd Annual Big Dill Classic will be Sunday, June 4, 2023.
---
Big Dill Classic Photo Album
Thank you to Larry Eichner and Seadon Rolston for photographing our event this year!
---
Thank you Sponsors!