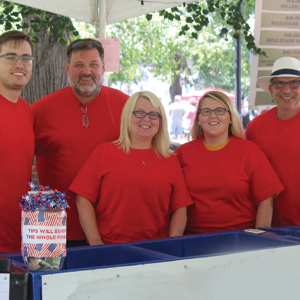 Our valued volunteers are the heart and soul of our mission!
There are so many opportunities for you to help — in ways that fit your skills, your lifestyle, and the time you have to give. Whether you are an individual, church, club or corporation, or have a lot or limited amount of time to give,  we have a variety of volunteering options that will work for you.
For more information, contact Kelly Grooms, kgrooms@thewholeperson.org; 816-627-2232.
---
Volunteer Opportunities for 2022
Volunteer positions are available for sign-up if title to the event listed below in in BLUE. If you are interested in signing up PRIOR to the posting of these opportunities, contact Kelly at kgrooms@thewholeperson.org.
The Night of Independence Gala will be held on Saturday, October 1, 2022, 5-10pm. The Night of Independence Gala is a unique evening which honors individuals and organizations that are working to further The Whole Person's mission to assist people with disabilities to live independently. The event will be held at the North Club at Arrowhead Stadium. Volunteers are needed for set up/tear down, staff silent auction, greet guests, and variety of tasks. Contact Kelly Grooms, kgrooms@thewholeperson.org.

TWP needs help supporting people involved in our adaptive sports program. In 2022, needs include assistance with our wheelchair tennis program, power wheelchair soccer program and the new track and field program. Additional activities occur throughout the year. Contact Kelly Grooms, kgrooms@thewholeperson.org.
---
For all other Volunteer Opportunities complete form below:
Complete this form ONLY to volunteer for activities not listed above.