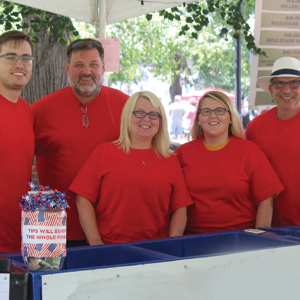 Volunteers are the heart of The Whole Person.
There are many ways that we can put your talents and skills to work. Whether you are an individual, church, club or corporation, or have a lot or limited amount of time to give,  we have a variety of volunteering options that will work for you.
Below you will find a list of volunteer opportunities that are currently available. If you find one of interest, click the title to sign up!
---
Current Volunteer Opportunities Available
Click event title below to see a full list of dates/times needed for volunteers.
Join us on September 24, 2021 for our Night of Independence An Evening In Paris Gala being held at The Abbott Event Space. Cocktail hour with cash bar and live music, followed by buffet dinner and awards program. Exquisite desserts by Chef Tiffany Bohm-Taff. Parisian music by instrumentalist Jane Christison. Enjoy the festivities while you volunteer to help with raising money for our programs.
—Click name to see volunteer opportunities!

Youth (K-12) Power Soccer 6-Week Series each Thursday for six weeks beginning July 8 at Garrison Community Center, 1124 E. 5th St., Kansas City, MO. Volunteers needed to facilitate practices and games.
---
For all other Volunteer Opportunities complete form below:
Complete this form ONLY to volunteer for activities not listed above.