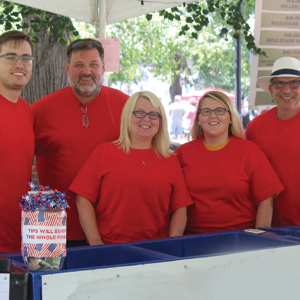 Our valued volunteers are the heart and soul of our mission!
Each year The Whole Person (TWP) assists over 2,500 people with disabilities to live independent lives in the community of their choice. Volunteering is flexible and can be done as an individual, a family, or in a community group.
For more information, contact Kelly Grooms, kgrooms@thewholeperson.org; 816-627-2232.
---
Volunteer Opportunities for 2023
Volunteer positions are available for sign-up if title to the event listed below in in BLUE. If you are interested in signing up PRIOR to the posting of these opportunities, contact Kelly at kgrooms@thewholeperson.org.
April 21st (Corporate Team Day) Time determined by Teams
April 22nd, 8:30am-Noon
Planting Independence is a KC Metro-wide yard clean up at TWP consumer's homes. Yard work is difficult for some people with disabilities, so we hope you'll join us in helping out!

The 3rd Annual Big Dill Classic is a Pickleball & Cornhole fundraising tournament benefiting our Adaptive Sports Program. This event will be held at Chicken & Pickle in Overland Park, Kansas, on June 4th from 4-8pm.

The Night of Independence Gala is our annual fundraiser which honors individuals and organizations that are working to further The Whole Person's mission. The event will be held at Harrah's Casino on September 22 from 6-11pm. Volunteers are needed for set up, tear down, silent auction assistance, greeting guests, and helping with day of tasks. Planning committee forming January 2023!

TWP needs volunteers to get involved in our Adaptive Sports Program. Needs include assistance with wheelchair tennis, power wheelchair soccer, and track & field. Activities occur throughout the year.
---
For all other Volunteer Opportunities complete form below:
Complete this form ONLY to volunteer for activities not listed above.