2022 Expressions Art Exhibition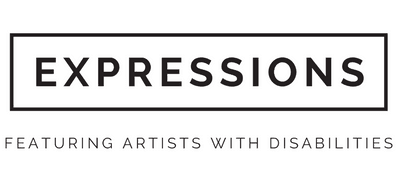 The 12th Annual Expressions Art Exhibition showcases artists with disabilities, celebrating their abilities and unique talents.  Expressions strives to promote artists with disabilities by featuring their work in professionally organized art exhibitions and offering innovative educational and networking workshops that connect them to the broad regional creative community.
2022 Exhibiting Artists — Visual Artists:  Jasmine Ali, Omar Al-Shams, Sherri Buerky, Courtney Coy, Jason Edwards, Leslie Norman Hubble, Jan Kobe, Alex Krahenbuhl, Nick Lopez, April Marie Mai, Lynndanna Stematz, JoAnna Termini, Sara Unrein, and Kora Wilkes.  Performance Artist:  John Hopkins, Jr.
Read the statement by each artist and view one of their works by clicking the BLUE TITLE above. Purchasing and contact information for each artist is also listed.
---

---
Listen to our Expressions Playlist on Spotify!
This playlist features selections from "Enough Said," by our performing artist John Hopkins Jr. recorded in 2004. The playlist also has additional tracks by various performers that are based around the themes of art, artists, about artists in history, expression and joy that is felt from experiencing art.  CLICK HERE TO LISTEN!  (You must have a paid or free Spotify account to listen.)
Thank you to our 2022 Expressions Committee
We are grateful for the work of our volunteer committee of arts professionals for their time and dedication to our artists:  Linda Link (Co- Chair), Madison Wellman (Co- Chair), Poppy Di Candeloro, Meghan Dohogne, Alex Fraser, Kelly Grooms, Amy Kilgore, Shai Perry and Anthony Trakas.
---
2022 Expressions Traveling Exhibition
The 2022 Expressions Exhibition will be on view at the following locations:
(Click venue name for gallery hours if not listed below)
October - December
Kansas City Museum
3218 Gladstone Blvd., Kansas City, MO 64123
Hours:  Th 10am-8pm; Fri./Sat. 10am-5pm; Sun. 12pm-5pm
January 2 – February 25, 2023
InterUrban Art House
8001 Newton St, Overland Park, KS 66204
Hours:  Wed-Fri 10am-1pm, Sat 10am-2pm
---
Fiscal Year 2022/2023 Support From: