What do you call a person with a disability?  A person.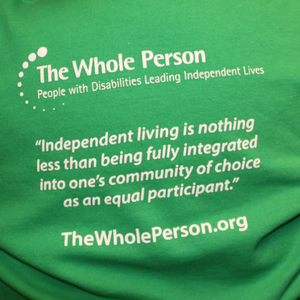 People with disabilities are members of the community just like anyone else. They shop, volunteer, vote, attend religious services, and send their children to local schools. Welcoming people with disabilities means being more welcoming to everyone.
Treating all the people who come to your businesses or community organizations with courtesy and individual respect is the cornerstone of hospitality.
---
Contact us to speak with your group or organization
To arrange a presentation or learn more about The Whole Person, contact:
Lauren Sobchak, 816-627-2211, lsobchak@thewholeperson.org.
A 30-day notice is needed for all speaking engagements.
Presentations limited to the Kansas City Metro Area only.
Zoom presentations are available.
Donations/honorariums are appreciated for any offsite speaking engagements.
---
Additional resources here
Blog article by Erin Hawley, Communications Consultant for the National Aging & Disability Transportation Center.

Website page from the National Center on Disability and Journalism