What is Consumer Directed Services?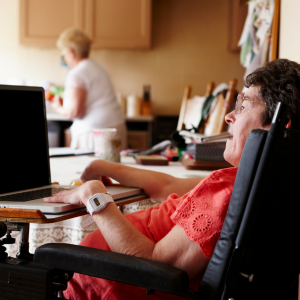 A program for those that want to be in control of their attendant care. Through this program the disabled individual can hire, train, and supervise their attendant. This program is ideal for those who have family or a friend as the caregiver. Medicaid eligibility is required.
What are the Requirements?
Individuals must meet certain criteria to be eligible for Consumer Directed Services, including:
Must be at least 18 years of age
Must be eligible for Medicaid
Must meet level of care as set by Missouri Department of Health and Senior Services
Must be able to fully direct their own care
Be physically disabled
Be capable of living independently with the services of a personal care attendant
The Missouri Department of Health and Senior Services (DHSS) (or its designee) will assess individuals who meet the minimum qualifications to see if they are eligible for the Consumer Directed Services program. If a person is eligible, DHSS and the potential participant will create a Plan of Care that outlines the type (s) of service(s) the person will be approved to receive from a personal care attendant through the Consumer Directed Services program.
Are you interested in becoming a Consumer?
You may contact The Whole Person and speak with our Intake Specialist to see if you meet the requirements at 816-595-6683. Once you are found to meet these requirements, The Whole Person will work with DHSS to get you an appointment with an evaluator to begin the process.
We serve the following counties in Missouri:  Cass, Clay, Jackson and Platte.
Who pays for the Consumer Directed Services PCA?
The Consumer Directed Services program and Personal Care Attendant (PCA) pay is covered through Medicaid. PCA's can make up to $12 per hour and that decision is left up to the Consumer. The Whole Person acts as the fiscal agent and is responsible for processing the PCA payroll and taxes, but the Consumer is the employer of the PCA.
What are the responsibilities of a PCA?
Assist Consumers with their needs according to each Consumer's Plan of Care
Assist Consumer with activities of daily living as needed
Assist Consumer with grooming
Assist Consumer with bathing
Assist Consumer with housekeeping
Assist with laundry
Assist with meal preparation
Assist Consumer with essential transportation
Are you Interested in becoming a PCA?
PCA's must be 18 years of age and be able to pass a basic background screening. Consumers choose their PCA, but The Whole Person keeps a file of interested PCA applicants for their review. If you would like to be considered, please call our Intake Department at 816-595-6683 for an application.
---
Would you like us to contact you?
Request a message by completing the form below.