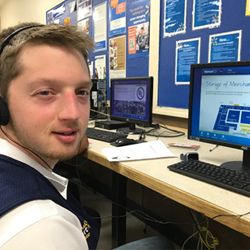 A Resource for Job Seekers
If you are a person with disability looking for work, we would like to learn more about your job interests and help you find the right career.
---
Missouri Residents
The Whole Person's Employment Services program provides services primarily through Missouri Vocational Rehabilitation.  Our goal is to help you find a position to match your abilities and interests.
Vocational Rehabilitation (VR) provides a broad range of services to help people with disabilities to enter or maintain employment. VR refers to service providers such as The Whole Person to provide individualized job placement assistance.
If you are not currently a client of VR, please contact one of the following offices:
Kansas City Downtown: 615 E. 13th St., Room G-3, Kansas City, MO 64106; 816-889-2581
Kansas City East: 8800 E 63rd St., Raytown, MO 64133; 816-743-8730
Kansas City North: 8030 North Oak Trafficway, Kansas City, MO 64118; 816-467-7900
If you are determined to be eligible for Vocational Rehabilitation, VR will provide a list of agencies to choose from.   
To be eligible, the job seeker must have a disability and must be at least 16 years old.
We will help you develop an Employment Service Plan which is tailored to your needs and interests, which may include help to:
Assess your skills
Discover jobs you may not have knowledge of
Prepare a resume and cover letter
Complete applications on paper and on-line
Practice answering difficult interview questions
Connect with employers
Participate in job fairs and career fairs
Learn how to discuss accommodation needs with your employer
Succeed and adjust to your job once you return to work
DOWNLOAD INFORMATION about Missouri Employment Services.
Download a flyer about Missouri Employment Services.
---
Kansas Residents
Kansas residents may contact Kansas Vocational Services which are provided through the Department of Children and Families (DCF) at 1-866-213-9079.
DOWNLOAD INFORMATION about Kansas Employment Services.
Download a flyer about Kansas Employment Services.
---
Contact us!
If you would like to meet in person to learn more about TWP Employment Services for Missouri or Kansas residents, or talk by phone, please contact us at 816-561-0304.