We are a Center for Independent Living (CIL)
The term "center for independent living" means a consumer‑controlled, community‑based, cross‑disability, nonresidential private nonprofit agency that is designed and operated within a local community by individuals with disabilities and provides an array of independent living services.
A CIL provides the following core services: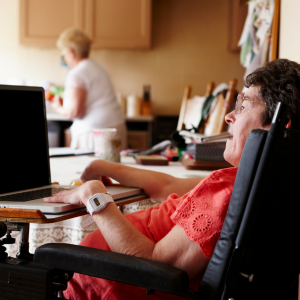 The Whole Person (TWP) is a preeminent center for independent living founded in 1978, with widespread grass-roots support, strong consumer control and a diverse, professional staff. We are a passionate voice of empowerment and advocacy for all persons with disabilities. For more than 44 years, we have been a leader in representing people with disabilities in the greater Kansas City metropolitan area. TWP dedicates its resources to direct services and community change and has guided thousands of people with disabilities to the independent lifestyles of their choice. The key part of our charter is to be consumer controlled as well as consumer focused. A majority of our board of directors and staff are people with disabilities.
TWP offers services to all persons with disabilities and strives to help them identify and implement resources appropriate to their situation. Our goal is to promote empowerment, independence, self-reliance and integration into the community.
---
Download a Brochure