Mind's Eye View Peer Support Group
During the Caronavirus Pandemic, this meeting will be held virtually. For more information, or to sign up for the Zoom event, contact Sheila Styron at sstyron@thewholeperson.org.
Whether you are new to vision loss, in the process of losing vision, or vision loss has always been a part of your life, you may be interested in "Mind's Eye View." This group is a solution-focused peer support group for people with vision loss seeking to live independent, fulfilling, self-supporting lives, fully integrated into society's mainstream. "Mind's Eye View" will meet monthly from 5:30-6:30 pm on the first Monday of each month at The Whole Person to discuss issues faced by people who are blind or low vision and explore strategies for achieving and maintaining emotional, psychological and social well-being. Dr. Arnold Abels, PHD, and Sheila Styron, Blindness Low Vision Specialist, The Whole Person will co-facilitate "Mind's Eye View", as part of the "Blindness Low Vision Experience."
---
The Blindness Low Vision Experience Activities
The Blindness Low Vision Experience encourages individuals to enjoy opportunities to achieve greater independence and access to the community through physical and outdoor activities, art and cultural events and other experiences.
Examples of activities include Stretching Without Looking (flexibility and strength class), Bowling Blind (accessible bowling), Out and About with Canines and Canes (conquer your fear of buses), downhill skiing and tandem bicycling.
Meets on different dates and times depending on activities.
Contact for more information:
Sheila Styron; sstyron@thewholeperson.org; 816-561-0304.
BLVE Calendar
Bowling Blind is back, beginning Wednesday, September 7, at 11:30am at Ward Parkway Lanes, 1523 W 89th St, Kansas City, MO 64114.
Bowling Blind will continue the first Wednesday of each month, at this same time, unless otherwise notified.
We will be bowling two games for the price of one (a nonprofit discount), which is $7.00 per person. Bring CASH! We must pay with one credit card, which means participants need to bring $7.00 cash, which will be collected before we pay for the entire group. If you don't have cash, you may pay with your credit card, but you will be paying regular price, $7.00 per game.
RSVP by September 6 to Sheila Styron, TWP Blindness Low Vision Specialist II, so that we can make certain we have enough help. sstyron@thewholeperson.org; 816-627-2217.
You don't need to be able to see to be able to bowl! Just gently travel along the guide rail with one hand, and when you reach the end, release your ball with the other hand, and STRIKE!
VOLUNTEERS welcome! Contact Sheila!
Join us to get better at using your technology!
This will be a virtual event held in the ZOOM environment. You will need to email Sheila for information on how to join.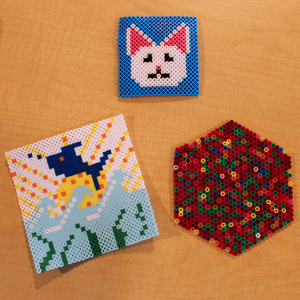 Beading Circle, 3rd Wednesdays, Noon-2pm
Everyone is welcome on 3rd Wednesdays from Noon-2pm in the Youth Room. Join for the entire time or just 15 minutes and give beading a try. GK Callahan and Laura White are back at The Whole Person hosting beading circles again. We will create "quilt squares" using plastic hot melt fuse beads. Materials supplied.
Their group has been offered a show of new and passed "Beaded Quilts" in 2023 at the Johnson County Arts and Heritage Center. Their hope is that The Whole Person will help create a small quilt for the show, which will hang alongside the Kansas City Beaded Quilt, a ten-foot by nine-foot quilt that is made from 300,000+ colored beads assembled in 2018/2019 during beadings circles held at various non-profits, camps, coffee shops, churches, and meeting rooms around the greater KC metro, including The Whole Person.
The time "beading" is intended to be a fun art activity and give folks time to socialize. For this project, the beading process is as significant as the finished product; the time spent in what we call "beading circles" is a great form of art therapy, storytelling, and communing in a group setting. We have found that making these beaded quilts echoes the relationship to the communal tradition of American quilt making. At the same time, the making process helps to fine-tune the makers' manual dexterity, improve their hand-eye coordination, memory, and color and shape recognition, including for those who are blind and low vision.