There are many ways to get involved with us!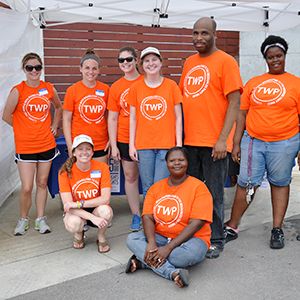 Volunteer!
If you're the type that likes to see the fruits of your labor, check out our volunteer opportunities where you can directly affect those we serve.
Volunteer at one of our special events
Volunteer to assist people who are blind/low vision read their mail
Volunteer to help with general yard clean-up at the home of a person with a disability
Donate!
We also appreciate those that may not have the time, but are able to make a difference financially. Thank you for your financial and in-kind donations.
Support TWP with a one-time or recurring monthly donation
Create a legacy through planned giving
Donate in-kind services or products on our wish list
Support TWP In Person!
The Whole Person hosts a number of events throughout the year.  If you're interested in seeing what's going on, visit our calendar of events.
Purchase a sponsorship for our Night of Independence Gala, Big Dill Classic Pickleball and Cornhole Tournament, Adaptive Sports Programs or Expressions Art Exhibition
Support us through one of our fundraising events at a local business
Attend the events listed above and support our work by engaging with our staff and consumers