Our Mission
The Whole Person connects people with disabilities to the resources they need by supporting independent choice and advocating for positive change in the community.
Our Vision
The Whole Person envisions a fully accessible community where opportunities and choices are not limited by disability.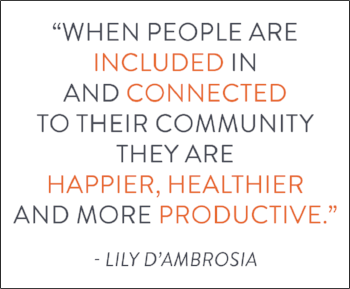 Core Values
Our core values influence how we interact with each other, guide how we go about our work and fulfill our mission. Our core values are: Respect; Integrity; Inclusiveness; Commitment; and Collaboration.
---
The Whole Person provides services to people with disabilities and their families and strives to help them identify and implement resources appropriate to their situation.
We serve the following counties in *Missouri:  Cass, Clay, Jackson and Platte.
We serve the following counties in *Kansas:  Johnson, Leavenworth and Wyandotte.
---
*Our In-Home Care and Home Health Care are available in Missouri only. Consumer Directed Services (CDS) in Missouri and Home and Community-Based Services in Kansas (HCBS).
*The Whole Person's Employment Services program provides services for MISSOURI RESIDENTS primarily through Missouri Vocational Rehabilitation. KANSAS RESIDENTS may contact Kansas Vocational Services which are provided through the Department of Children and Families (DCF) at 1-866-213-9079.  See EMPLOYMENT SERVICES page for more information.
---
We serve:
People with disabilities
Parents, spouses, siblings and significant others of people with disabilities
Schools
Businesses
Local government agencies
Volunteer organizations
Hospitals, health organizations and the medical community
Civic organizations
Churches/religious organizations
Veterans
Any individual or organization seeking assistance
We serve people across a full range of physical, sensory and mental disabilities. Our programs are offered free of charge to all people with significant disabilities, such as:
Amputation
Arthritis
Brain/Head Injury
Cancer
Cardiac Conditions
Cerebral Palsy
Chronic Fatigue Syndrome
Degenerative Disease
Developmental Disability
Diabetes
Environmental Sensitivity
Epilepsy
Fibromyalgia
Hearing Disabilities
HIV/AIDS
Learning Disability
Lupus
Mental Health Disability
Multiple Chemical
Muscular Dystrophy
Multiple Sclerosis
Polio
Renal Conditions
Respiratory Conditions
Sensory Sensitivity
Spina Bifida
Spinal Cord Injury
Stroke
Visual Disabilities