Transition Services
The Whole Person provides information about options in the community that are available to individuals who are presently in facilities, or are in immediate risk of entering state institutions or nursing facilities. For people who want to move out of institutions, we also provide assistance in finding housing and other vital service needs as requested by the individual and/or family. The Whole Person leads the state of Missouri in Money Follows the Person (MFP) transitions.

TWP runs the Money Follows the Person program within our Transition Services program. MFP is a federal demonstration grant given to the state of Missouri to transition residents of qualified institutions back into their homes and communities.

Who is Eligible?
The government requires that the following items be met to be eligible to participate in the MFP program. A resident needs to:
Be a current resident of a skilled nursing facility for 90 continuous days
Be eligible for Medicaid and receiving MO HealthNet benefits
Have some source of income
Be 18 years old or older and have a developmental or physical disability or have a traumatic brain injury or mental illness
Individuals participating in the program can be active in the program for one year. At the end of the year, they will continue to receive home and community services and supports through MO HealthNet, as they are eligible for service.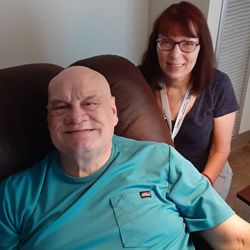 How does MFP work?
The facility you reside in will recommend you to the Missouri Department of Health and Senior Services (DHSS) who will contact a Transition Coordinator at TWP. This contact will be with you through the entire process. They will initially do a level of care assessment to identify the best plan for you.
After being approved for the MFP program, you will be set up with a transition plan, including:
Identification of services and supports needed to live in the community.
Location of social and recreational activities
Options for housing
Moving support
Decision on whether CDS or in-home care is needed.
During the preparation of the transition plan, the coordinator will identify the following expenditures:
Moving expenses
Home health needs
Independent living skills training
Assistance technology and/or durable medical equipment
Home modifications to allow for independence
---