The Whole Family Project
How does a child who is deaf, hard of hearing or nonverbal due to other conditions such as Down Syndrome, Cerebral Palsy or childhood Apraxia learn to communicate?
Sign language skills can provide a much-needed solution and help families better communicate with their children. The Whole Family Project provides sign language instruction to families who have a child living in the home, from birth to age 12, with a hearing or speech disability who would benefit learning visual communication. Adults are not eligible for this program.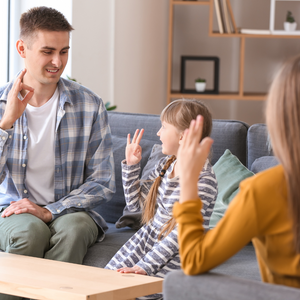 About The Whole Family Project
Established in 1999, The Whole Family Project is a program of The Whole Person. The Whole Family Project employs tutors with a wide variety of sign language experience and backgrounds. Tutors may be interpreters, family members of a deaf individual or deaf themselves. Our qualified tutors work with individual families, tailoring their lessons to meet the unique communication needs of each family.
The Whole Family Project also maintains a library of additional resources that can be checked out through the family tutors. This includes sign language textbooks, Autism Spectrum and dictionaries and books on deaf culture, as well as a collection of videotapes of popular children's stories and movies that are simultaneously signed and instructional videos in American Sign Language.
Responsibilities of Families in the Program
The family's responsibility to the program is to meet once a week unless other arrangements are made with the tutor (such as cancellations for weather, sickness, vacation, etc).
The family agrees to be on time and prepared for weekly sessions, just the like the tutor is prepared and on time.
The family agrees and understands that at least one parent much be present at every session. No session will be taught without a parent in attendance.
The family also understands and agrees to practice the vocabulary taught each week. They will keep a log of words and will use as many as they can and as often as they can each week.
The family understands this is a 2-year program, but that they can withdraw at any point.
The Whole Family Project draws upon the resources of The Whole Person for other services such as referral, advocacy and community education.
Individuals fluent in sign language are encouraged to inquire about tutoring possibilities.
---
DOWNLOAD A FLYER:
---
Interested in The Whole Family Project?