Deaf Services Training and Workshops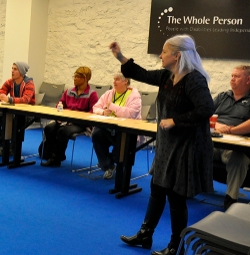 The Whole Person offers the opportunity to learn more about the Deaf community in Kansas City by providing two options for businesses, groups and organizations in the Kansas City Metro Area.
---
Deaf Cultural Awareness Training
Course duration:  1.5/hrs
Lead by:  Micki Keck & Certified ASL Interpreter
Price:  $250 for up to 20 people
Upon completion of this training, participants will be able to:
Discuss the unique culture and perspective of the Deaf community
Utilize a variety of methods to communicate effectively
Recognize and implement reasonable accommodations for employee success and customer access
Understand and utilize the various forms of telecommunication relay services
Identify additional communication technology and applications
Appropriately determine effective communication strategies
Basic ASL Workshop
Course duration:  1.25/hrs
Lead by:  Micki Keck
Price:  $125 per workshop for up to 20 people
There are an estimated 11 million Deaf people in the United States and over 10,000 Deaf individuals in the Greater Kansas City area. This workshop will provide:
Total immersion into ASL. The workshop will be tailored to the specific ASL signs necessary for your group (for example, a Child Care Facility will learn the 20 basic Infant signs)
A final opportunity at the end of each workshop for participants to "practice" with each other and the Instructor
---
Not in the KC Metro Area?  We'll come to you!
There will be an additional $25 fee for areas beyond 25 miles from The Whole Person.
---
About our Workshop Leader
Michele 'Micki' Keck was born to a mixed deaf, hard of hearing, and hearing family (fourth deaf generation on her maternal side) in Kansas City, Missouri and attended Kansas School for the Deaf, Gallaudet University, and McDaniel College. After teaching American Sign Language and Deaf Studies in community colleges and deaf schools for more than 25 years, she currently is an Independent Living Advocate-Deaf Services at The Whole Person. 
---
Ready to Schedule a Training or Workshop for your Business or Organization?
Click the box below to submit your information to The Whole Person.
---
Click below to download an informational flyer.