Consumer Directed Services in Missouri (CDS)
The Missouri Consumer Directed Services program helps people with significant physical disabilities obtain assistance with personal care and daily activities to maintain or increase their independence. This includes services in the home such as meal preparation, cleaning and personal hygiene.
We serve the following counties in Missouri:  Cass, Clay, Jackson and Platte.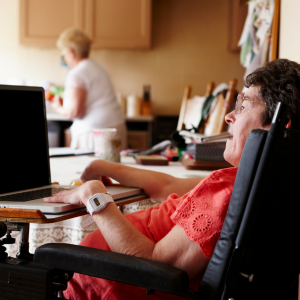 The cost of these services is covered by Missouri Medicaid (MO HealthNet) and is administered by the Missouri Department of Health and Senior Services (DHSS). The Whole Person contracts with DHSS to provide case management and payroll services for the program.

The goal is to provide individuals more personal autonomy in determining how best to meet their own care needs. In other words, you have choices – including hiring and supervising your attendant and approving time sheets for payment.
To inquire about Personal Care Attendant Services in Missouri, call us at 816-659-9402
---
Request information using form below.
---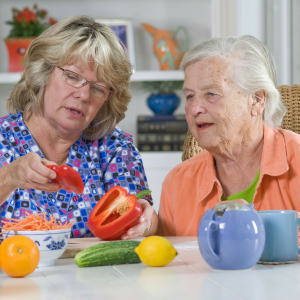 Who is Eligible?
To be eligible for Missouri's Consumer Directed Services (CDS) program, you must:
Have active Missouri Medicaid
Be at least 18 years of age
Have a physical disability and/or chronic medical condition such as diabetes that interferes with your ability to care for yourself without assistance
Have the desire and ability to self-direct your own care and employ/train your own attendant
If you are unable to self-direct or choose not to do so, contact The Whole Person to discuss other options and obtain a referral for other services.

The Whole Person works closely with the DHSS to provide joint services, if needed. It is possible to receive services from more than one program at the same time or to select which program will best meet your needs.

If you are currently receiving CDS services from another agency, you will need to contact DHSS to request a transfer of services to The Whole Person. Contact DHSS at 816-889-2206; or email:info@health.mo.gov.
How Does It Work?
An Independent Living Advocate will help you throughout this process!
On your first call about the program, we'll collect basic information such as your name, contact information, Social Security and Medicaid numbers, etc. We'll also ask you to provide a brief overview of your situation and the services you need.
You'll be contacted by the State to develop your plan of care and to schedule a visit in your home for a review of your current medications and personal care assistance needs.
The Whole Person staff will guide you through the process of hiring and supervising your attendant and completing all necessary paperwork.
After DHSS approves your care plan, an Independent Living Advocate will be assigned and will meet with you to train you about completing and submitting time sheets for your attendant and other program guidelines.
Your attendant may be a friend or a family member, but cannot be your spouse. The attendant must be at least 18 years of age and pass a background screening test.
DOWNLOAD A FLYER:
---
Missouri Centers for Independent Living is the original state-certified and leading trusted resource for personal attendant services such as Consumer Directed Services. Through our regional centers in Missouri, like The Whole Person, we help people with disabilities remain in their own homes by assisting them in finding caregivers who can provide in-home personal care and support with household chores and daily meal preparation. Click here to learn more about MOCIL CDS providers across the state.
---