11th Street & Grand Avenue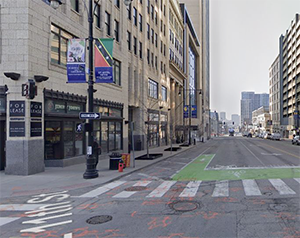 Author: Darrin Sherman
TWP Advocates in Action Group Member
I am visually impaired and am an avid user of public transportation here in Kansas City.  For years, I had been having a problem at the intersection of 11th Street and Grand Avenue in downtown Kansas City.  While I was working, I had to use this intersection daily to catch the bus that took me to work.
The problem I was having is that this intersection does not have an Accessible Pedestrian Signal A.KA. a talking crosswalk signal.  If there was traffic at the intersection, I could safely navigate the intersection.  The problem I kept running into was that some mornings during inclement weather or during the holidays when there was not much traffic was creating a real issue for me in that if there is no traffic, there was practically no way for me to safely cross the street  and if no one was at the intersection, I could not cross the street.  I had been requesting a talking signal at that intersection for years with no success.  I had heard that there were no funds available, it was already scheduled for replacement and so on.
It had reached a boiling point one day when I was trying to cross the street with traffic and walked out in the middle of traffic and came close to getting hit by several cars.  I finally reached out to Sheila at The Whole Person after once again getting rejected by the 311 Action line, because they told me to take my concern to the PIAC.  I reached out to Sheila at The Whole Person to ask her advice on the issue and to see if she knew of anyone that I could contact. She gave me the contact information to several of the Engineers with the City of Kansas City.  I reached out to a Sam Akula. He replied to me and let me know that he would have a talking signal installed within a month. And what do you know, the signal was installed as he promised.  Every time I am at that intersection and press the cross signal, I smile knowing that I was instrumental in getting that talking signal installed.