Current Expressions Exhibition
2021 marked the 11th Annual Expressions Art Exhibition, showcasing artists with disabilities, celebrating their abilities and unique talents.  Expressions strives to promote artists with disabilities by featuring their work in professionally organized art exhibitions and offering innovative educational and networking workshops that connect them to the broad regional creative community.

The 2021 Expressions Art opening reception was held March 5, 2021 at Rochester Brewing & Roasting Company, 2129 Washington St., Kansas City, MO. The event was a combination of live and virtual. Artists were available to discuss their work, and virtual tours were live on our Facebook and Instagram pages.
The exhibition remains on display at multiple venues through March 2022.
CLICK HERE to apply to be an artist in the 2022 Expressions Exhibition.
2021 Exhibiting Artists: Stone Addams, Jasmine Ali, Omar Al-Shams, Joyce Baxter, Sherri Buerky, Courtney Coy, Alex Fraser, Leslie Norman Hubble, Elise Huther. Dell Inskeep, Kim Raine Johnson, Carleigh Lavoy, April Marie Mai, Taj Moses, Kassidee Quaranta, Lynndanna Stematz and Sara Unrein
2021 Expressions Committee: Linda Link (Co- Chairperson), Madison Wellman (Co- Chairperson), Poppy Di Candeloro, CJ Charbonneau, Meghan Dohogne, Allie Donnell, Lea Klepees, Mitch Chalk, and Anthony Trakas.
View the work of the artists selected for our 2021 Exhibition.
View artwork submitted by all who applied for the exhibition.

View the list of our 11th Annual Expressions Art Exhibition Sponsors
---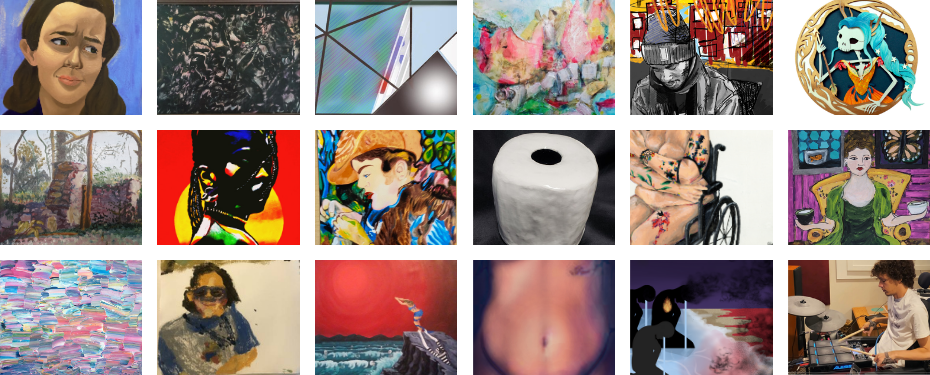 2021 Expressions Traveling Exhibition Tour Locations:
(Check back for gallery hours if not listed below)
November, December 2021
Kansas City Kansas Community College
7250 State Ave, Kansas City, KS
January, February 2022
To be announced
March 2022
Kansas City Artists' Coalition
3200 Gillham Rd, Kansas City, MO
---
2021 Expressions Sponsors
Thank you for your sponsorship of our 2021 Expressions Art Exhibition. Your support matters to us!
Patron of the Arts Level
---
Thank you to the following individuals, businesses and organizations that have supported the Expressions 2021 Silent Auction: Stone Addams, Joyce Baxter, Tina Blatter, Sherri Buerky, Destinie Campbell/Salty Iguana, John Campbell, Kristopher Dabner/The Greensman, Alex Fraser, Valerie Grogan, Leslie Norman Hubble, Kim Raine Johnson, Alex Krahenbuhl, Carleigh Lavoy, Linda Link, April Marie Mai. Meredith McAllister/Compost Collective, Antwan Pettis, Andrew Prewitt/Fiorella's Jack Stack Barbecue Crossroads, Marie Qualls/Chez Elle, Kassidee Quaranta, Teri Quinn/Coyote Bone Necklace, Helmut Scholz/PRP Wine Tastings, Lyndanna Stematz. Sara Unrein, Kansas City Zoo, Museum At Prairie Fire, Jose Peppers , Wine & Design.