Track & Field Practice
Contact adaptivesports@thewholeperson.org, to learn when Track/Field resumes.
Spring/Summer Program
Tuesdays, 6:30pm - 8:00pm
Blue Valley Middle School Track
5001 W 163rd Ter, Overland Park, KS 66085
Join us on the track!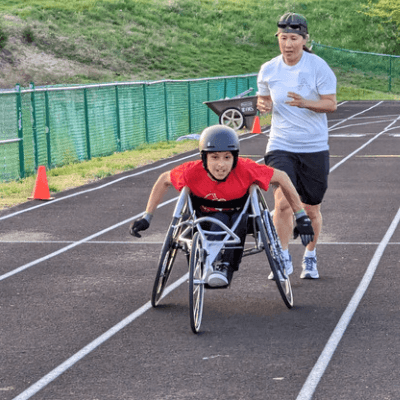 Recurring track & field practice for people with disabilities over the age of 8 years.
Track & Field Practice is an open practice for any individual with a disability. Athletes can try the different events and continue practicing every Tuesday through the summer months. No cost, no commitment. This event is designed for individuals with all types of disabilities, including physical, intellectual, and developmental disabilities.
Experienced coaches and volunteers will guide you through a variety of track and field activities, including running, jumping, and throwing events.
For more information contact Kate Hwang at 816-627-2217, or adaptivesports@thewholeperson.org, PRIOR to attending.
Participants will need to complete a waiver to participate.  Waiver can be completed here.
---
If you are interested in Track & Field, or other adaptive sports and recreation activities, contact Kate Hwang, at 816-627-2217, or adaptivesports@thewholeperson.org.
---