Junior Wheelchair Tennis Clinic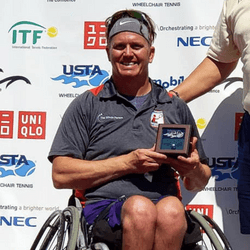 April 14 - May 19
Coaches Jarvis Stirn, Jeff Walker and Melissa Burns
The TWP Junior Wheelchair Tennis Clinic is aimed at introducing youth with a variety of physical limitations to explore basic skills in a fun, recreational environment and learn the fundamentals of tennis.
Ages 5-17 years introduction and advanced playing opportunities.
Location for clinics is:  Northland Racquet Club. 306 Tennis Ct, North Kansas City, MO 64116.
6- week session on Thursdays, 6pm-7pm.
Cost is $35.00/per player (Payment portal link below)
Parent/guardian will need to sign a waiver before the start of the clinic. Waivers link given below.
Rackets and sports chairs can be provided for youth who do not have their own.
Ongoing practices after the clinic are also available.
FREE t-shirt if you register by March 30, 2022.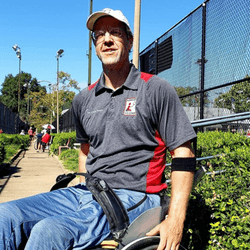 Goals of the Clinic
Youth learn the basics of tennis in a fun interactive environment
To improve hand/eye coordination, racquet skills, volleys, and groundstrokes.
To prepare adaptive tennis players for competitive play
Wheelchair tennis adaptations
Wheelchair tennis is one of the fastest-growing recreational and competitive sports for people with disabilities and one of the most accessible and integrated sports around the country. Wheelchair tennis follows the same rules as able-bodied tennis, with one exception. That being, the wheelchair tennis player is allowed two bounces instead of one.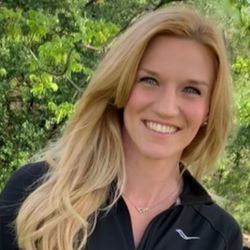 Participation
To ensure a fun and safe event, youth must be:
Able to follow 1-3 directions at a time.
Seizure free for at least 2 months.
Caregiver presence needed for assistance if the participant is not physically independent.
Preferred that participants be able to push a manual wheelchair independently.
Waiver links
Click to complete our waiver.
Parent/guardian will need to sign a waiver before the start of the clinic.
Clinic Payment Portal
Click to submit your $35 participant fee through our secure payment portal.
---
If you are interested in the wheelchair tennis program, contact Dr. Melissa Burns PsyD, at 816-627-2220, or MBurns@thewholeperson.org, or complete the form below.
---
Junior Wheelchair Tennis Clinic