The 8th Annual Expressions Art Exhibition celebrates the artists' abilities and unique talents, adds diversity to the Kansas City arts community, and exposes audiences to art that otherwise might not be seen.
In 2017 the opening night event, a nonticketed, free-to-the-public opening, welcomed nearly 500 people, and we often had standing room only. Held again at Kansas City Young Audiences, Expressions consists of the work of 15-20 artists who are selected by a committee of professional artists and arts educators.
Expressions not only breaks down some of the barriers that artists with disabilities face, but it also offers an art gallery experience that is accessible to people of all abilities.
---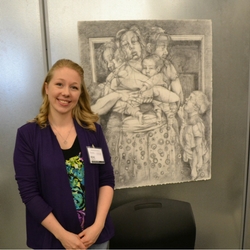 Expressions Art Exhibition 2018 Opening Night
Friday, April 6, 2018, 6:00 - 10:00 pm
Kansas City Young Audiences (KCYA), 3732 Main Street, Kansas City, MO
Opening night attendees will enjoy music performances, auction, refreshments, photo booth, wine toss, tile art project and conversations with the featured artists.
Accessibility options at the event included Braille and large-print event programs, volunteer guides for descriptive audio tours, sign language interpreters and accessible entrances.
Special appreciation to the following for their support of Expressions during our fiscal year 2017/2018: