Legislative updates that impact people with disabilities
The purpose of this page is to share updates about legislation and issues at the City, State and Federal level impacting people with disabilities in the State of Missouri and Kansas. Advocacy is one of the core services we provide to consumers. Staying informed, engaged and aware of issues affecting people with disabilities is a vital part of supporting independent choice and advocating for positive change in the community. We invite you to provide feedback and participate in upcoming events or opportunities for civic engagement.
---
Announcements
Kansas Disability Caucus Training Sessions
Take your advocacy to the next level!  
The next in-person Caucus is planned for August 10-12, 2022 - Mark your calendars!
In the meantime, the Kansas Disability Caucus is offering online education and advocacy opportunities. We hope that you will participate in any or all of these webinars. The first three webinars are scheduled for January 8, January 15 and January 22, 2021 (see description below). Live, real-time captioning (via CART) and sign language interpreters will be provided in all sessions.
For questions and other information, contact Kristi Marco, Caucus Board Secretary at 785-452-9580 or email kansasdisabilitycaucus@gmail.com.
REGISTRATION REQUIRED!  You must register by noon on the day of each training in order to participate.
To Register:  Completely fill out the form LOCATED HERE. Do not forget to hit the "SUBMIT" button. Please request accommodations on the registration form.
The week before each webinar, you will receive further information and links to join the Zoom webinar. We welcome you to attend all three of the sessions in January or just the ones you are interested in - It's your choice!
As these webinars are limited to the first 500 registrants, please make sure you fill out and submit the registration form as soon as possible and no later than noon (12:00 pm) on the day of each webinar.
Description of Webinars
2020 Disability Caucus Executive Summary Review
January 8, 2:00 - 4:00 pm
What did Kansans have to say about issues, barriers, AND solutions regarding COVID-19 during the Caucus?
We will summarize the results posted in our Executive Summary.
Kansas Legislature 101
January 15, 2:00 - 4:00 pm
Presenters: Sean Gatewood & Barb Conant
Learn all about how the Kansas Legislature works so that you can be successful in your advocacy efforts.
Learn the basics in order to make a lasting impact!
Advocating with Your Legislators: Hear from Real Advocates!
January 22, 2:00 - 4:00 pm
Panelists: Kendra Burgess, Carrie Greenwood, Oshara Hayes, Kathy Lobb, Heather Matty
Want to learn how to be a better advocate with your legislators?
Hear advice and experiences from people who have been there and done that!
Kansas Disability Caucus Training Flyer
Microsoft Word file of text in flyer
---
Virtual Legislative Education Project (LEP) Q&A Session
Tuesday, January 26 at 3:00pm
Attend the Legislative Education Project (LEP) Virtual Q&A Session by the Missouri Governor's Council on Disability
Contact Kendra at The Whole Person to register 816-627-2204 and get the session link, or email to kburgess@thewholeperson.org.
Learn about the legislative process in Missouri and how to become more active in creating positive public policies for people with disabilities. View the education videos online before the event at https://disability.mo.gov/gcd/LEP.htm
---
Peer Support Group around Advocacy!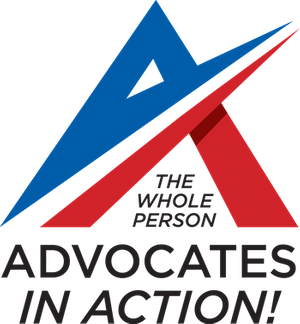 TWP Advocates in Action
Meets on the 4th Tuesday of the month from 2:00 - 4:00 pm on Zoom.  
Open to all people with disabilities and anyone in the community who wants to participate in civic activities at the city, state, and federal levels of government impacting people with disabilities in Kansas and Missouri. All are invited!
RSVP or request accommodations with Kendra Burgess, Public Policy Coordinator at kburgess@thewholeperson.org; or 816-627-2204.
(This group was formerly called "TWP Consumer Advocacy Group")
PDF download. Document lists the 2021 monthly topics .
---
Advocates in Action Stories
These are real stories from consumers working to create positive change in the community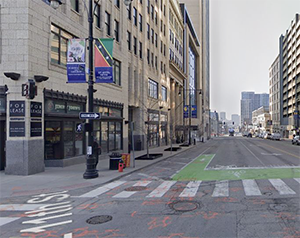 Author: Darrin Sherman, TWP Advocates in Action Group Member
I am visually impaired and am an avid user of public transportation here in Kansas City.  For years, I had been having a problem at the intersection of 11th Street and Grand Avenue in downtown Kansas City.  While I was working, I had to use this intersection daily to catch the bus that took me to work.
The problem I was having is that this intersection does not have an Accessible Pedestrian Signal A.KA. a talking crosswalk signal.  If there was traffic at the intersection, I could safely navigate the intersection.  The problem I kept running into was that some mornings during inclement weather or during the holidays when there was not much traffic was creating a real issue for me in that if there is no traffic, there was practically no way for me to safely cross the street  and if no one was at the intersection, I could not cross the street.  I had been requesting a talking signal at that intersection for years with no success.  I had heard that there were no funds available, it was already scheduled for replacement and so on.
It had reached a boiling point one day when I was trying to cross the street with traffic and walked out in the middle of traffic and came close to getting hit by several cars.  I finally reached out to Sheila at The Whole Person after once again getting rejected by the 311 Action line, because they told me to take my concern to the PIAC.  I reached out to Sheila at The Whole Person to ask her advice on the issue and to see if she knew of anyone that I could contact. She gave me the contact information to several of the Engineers with the City of Kansas City.  I reached out to a Sam Akula. He replied to me and let me know that he would have a talking signal installed within a month. And what do you know, the signal was installed as he promised.  Every time I am at that intersection and press the cross signal, I smile knowing that I was instrumental in getting that talking signal installed.
---
---