Legislative updates that impact people with disabilities
The purpose of this page is to share updates about legislation and issues at the City, State and Federal level impacting people with disabilities in the State of Missouri and Kansas. Advocacy is one of the core services we provide to consumers. Staying informed, engaged and aware of issues affecting people with disabilities is a vital part of supporting independent choice and advocating for positive change in the community. We invite you to provide feedback and participate in upcoming events or opportunities for civic engagement.
---
Medicaid Expansion in Missouri - Vote YES on August 4
A vote to expand Medicaid in Missouri was recently pushed up to the primary election being held on August 4th, 2020.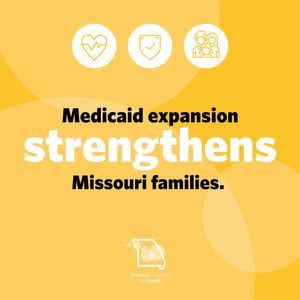 Right now, in Missouri, parents in a family of four must earn $5,550 or less per year to qualify for health insurance through Medicaid. A single adult does not qualify. 230,000 Missourians make too much to qualify for Medicaid—but not enough to afford health coverage on their own. Without health insurance, Missourians can't get and stay healthy, go to work, and support their families. By expanding Missouri's Medicaid program, MO HealthNet, an individual who makes up to $18,000 per year would be eligible. Expanding the Medicaid program would also bring our taxpayer dollars back home and save state funding, keep rural hospitals open, and create jobs. (Source: Make Sense MO website)
Opinion piece written by Kendra Burgess for Your Health Matters of the St. Louis American, published June 4-10, 2020 issue.
This is the article as it appeared in the issue. It is not JAWS accessible.

Opinion piece written by Kendra Burgess for Your Health Matters of the St. Louis American, published June 4-10, 2020 issue.
This is a PDF of the article as submitted. It is JAWS accessible.

Website for Make Sense Missouri which discusses benefits of Medicaid Expansion
---
Announcements
(June 2, 2020) 
The Missouri Statewide Independent Living Council (SILC) recently held their quarterly meeting and approved the Statewide Plan for Independent Living (SPIL). This document will be used by Missouri's 22 Centers for Independent Living (CIL) to help to develop their strategic plan for the next 3 years.
As the chair of the SILC, I would ask you to review the SPIL in its entirety. It can be found at: https://mosilc.org/state-plan/ Any comments should be directed to the SILC executive director, Adonis Brown, at AdonisTBrown@mosilc.org.
The SILC would like to have your feedback during the public comment period that will end June 15, 2020. The SPIL will be submitted to the Administration of Community Living for approval prior to June 30, 2020 and the approved plan will commence on October 1, 2020, continuing until September 30, 2023.
This plan was developed by a SILC committee consisting of CIL directors, CIL staff, staff from Department of Vocational Rehabilitation, and consumers, including a youth consumer under 18. The SPIL includes the following three consumer goals: Community Integration, Civic Engagement, and Emergency Preparedness.
Community Integration includes goals to increase housing, employment and transportation opportunities in Missouri communities. These three goals were consistently mentioned as barriers for people with disabilities during surveys and meetings conducted across the state by the CILs.
Civic Engagement consists of goals to increase participation in activities that will result in increase inclusion and independence in the consumers' community. The goals encourage education and development of self-advocacy for consumers, as well as participation in civic process via elections and board participation.
Emergency Preparedness will encourage communities and civic leaders to include people with disabilities in planning for emergencies. This goal also encourages people with disabilities to engage with community leaders to assure leaders understand the needs of people with disabilities when contingency planning.
---
Peer Support Group around Advocacy!
In light of the COVID-19 outbreak, also known as the Coronavirus, The Whole Person is taking all necessary steps to help curb its spread in Missouri and to do our part to protect the health and well-being of our consumers, staff, and fellow citizens. Effective immediately, TWP has postponed all in-person meetings, events, etc. where social distancing will be harder to maintain. Therefore, our Consumer Advocacy Group meet virtually until further notice.

(Group normally meets every 4th Tuesday from 2:00-4:00pm; The Whole Person; Community Room; 3710 Main Street, KCMO 64111)
---
Advocates in Action
These are real stories from consumers working to create positive change in the community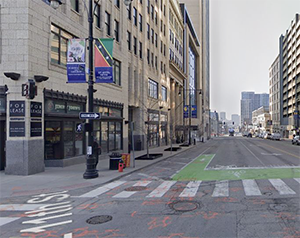 Author: Darrin Sherman, TWP Consumer Advocacy Group Member
I am visually impaired and am an avid user of public transportation here in Kansas City.  For years, I had been having a problem at the intersection of 11th Street and Grand Avenue in downtown Kansas City.  While I was working, I had to use this intersection daily to catch the bus that took me to work.
The problem I was having is that this intersection does not have an Accessible Pedestrian Signal A.KA. a talking crosswalk signal.  If there was traffic at the intersection, I could safely navigate the intersection.  The problem I kept running into was that some mornings during inclement weather or during the holidays when there was not much traffic was creating a real issue for me in that if there is no traffic, there was practically no way for me to safely cross the street  and if no one was at the intersection, I could not cross the street.  I had been requesting a talking signal at that intersection for years with no success.  I had heard that there were no funds available, it was already scheduled for replacement and so on.
It had reached a boiling point one day when I was trying to cross the street with traffic and walked out in the middle of traffic and came close to getting hit by several cars.  I finally reached out to Sheila at The Whole Person after once again getting rejected by the 311 Action line, because they told me to take my concern to the PIAC.  I reached out to Sheila at The Whole Person to ask her advice on the issue and to see if she knew of anyone that I could contact. She gave me the contact information to several of the Engineers with the City of Kansas City.  I reached out to a Sam Akula. He replied to me and let me know that he would have a talking signal installed within a month. And what do you know, the signal was installed as he promised.  Every time I am at that intersection and press the cross signal, I smile knowing that I was instrumental in getting that talking signal installed.
---
---