Legislative updates that impact people with disabilities
The purpose of this page is to share updates about legislation and issues at the City, State and Federal level impacting people with disabilities in the State of Missouri and Kansas. Advocacy is one of the core services we provide to consumers. Staying informed, engaged and aware of issues affecting people with disabilities is a vital part of supporting independent choice and advocating for positive change in the community. We invite you to provide feedback and participate in upcoming events or opportunities for civic engagement.
Public Policy 411 Newsletter
Updates about important issues at the City, State and Federal level impacting people with disabilities and some reminders about upcoming events.

CLICK to read the full issue!
---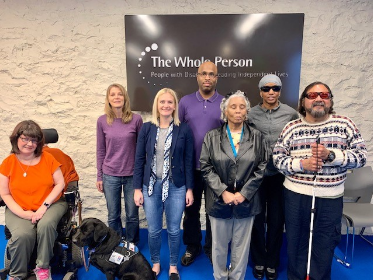 Missouri State Senator Lauren Arthur stopped by The Whole Person on October 22 to hear the concerns of our advocates who seek to make positive change in the community for people with disabilities & discuss her priorities for the 2020 Legislative Session. We appreciate her time and efforts to help make Missouri a better place to live for everyone.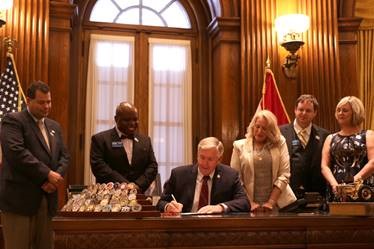 Governor Parson Signs Statewide Hearing Aid Distribution Program Into Law
From right to left: MCDHH Commissioner Mike Kelley, Executive Director Dr. Opeoluwa Sotonwa, Missouri Governor Mike Parson, Senator Jeanie Riddle, MCDHH Commissioner Clark Corogenes, and MCDHH Commission Chairperson Shelly Jones. Photo Credit: Missouri Commission for the Deaf and Hard of Hearing (MCDHH)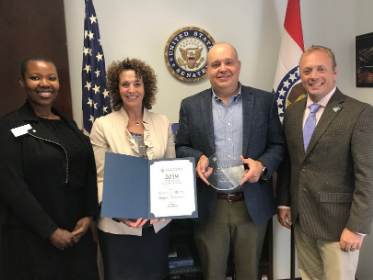 2019 Champion for Healthy Seniors Award Presentation
On August 28, 2019 the Partnership to Fight Chronic Disease (PFCD), in conjunction with several state and local organizations, presented U.S. Senator Roy Blunt's office with the 2019 Champion for Healthy Seniors Award, on behalf of seniors and individuals with disabilities in Missouri.
Pictured left to right: Kendra Burgess Public Policy Coordinator with The Whole Person, Bridgit Patterson Epilepsy Foundation of Missouri & Kansas, Matt Haase State Director for Senator Blunt, Dennis Ridenour President and CEO of BioNexus KC.
---
Peer Support Group around Advocacy!
Meets every 4th Tuesday from 1:30-3:30pm
The Whole Person; Community Room; 3710 Main Street, KCMO 64111
---