Courtney Coy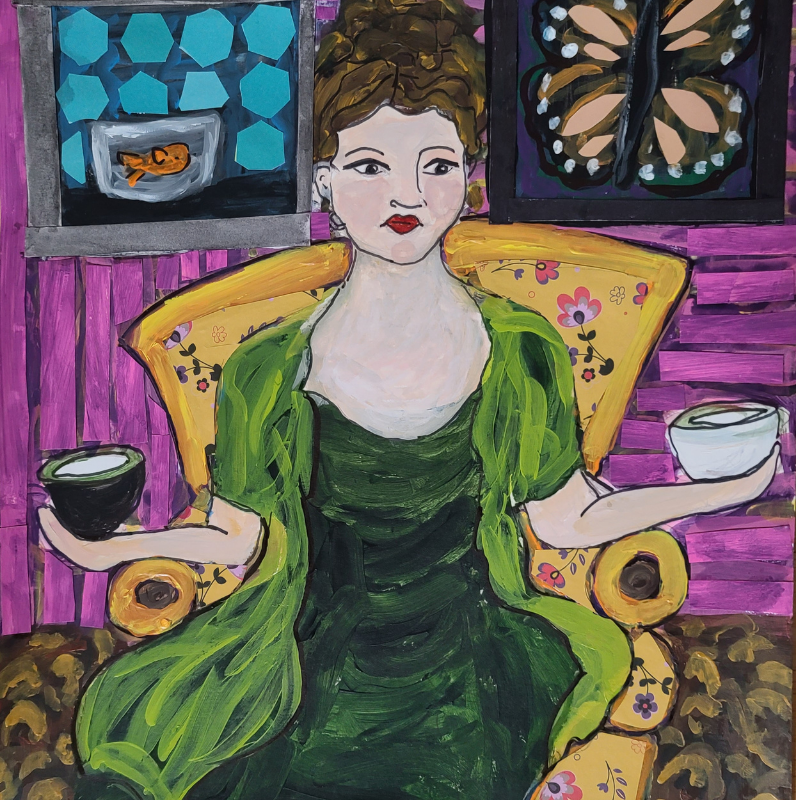 "Reflection"
Courtney Coy
Kansas City, MO
Color and pattern excite me and are reflected in the lush interior settings I create to surround my subjects. Utilizing mixed media, I find freedom from strict adherence to the rules tied to just one medium. Painting, drawing and collage collide in my cut-and-paste approach which often balances a complex subtext with exercises in play and creative problem solving. As an artist, I don't want to be bored and I don't want my viewers to be bored. I hope to translate energy, beauty and curiosity as I address themes ranging from self, psychology, symbolism, pop culture and art history.
While the works of Henri Matisse and Hannah Höch have long influenced me, I believe my greatest inspiration came from a childhood dollhouse. Unique in its one-dimensional design it came with magnetic film cut-outs of décor, and this memory offered revelation when developing my personal artistic style.
To be included in Expressions is an honor and affirmation to the validity of my voice as an artist. Disability may be a factor in my life but it isn't my identity. To be classified as an artist with a disability simply means to me that in spite of my challenges there is a resilience to persevere. This is an opportunity to venture beyond whatever preconceived notions there may be about those of us who live with disability and showcase our talents and offer a window into who we are as individuals. 
For purchase information, contact Courtneymarie1915@gmail.com or visit https://www.facebook.com/DadaGrrrl