Youth (K-18) Power Soccer Four-Week Series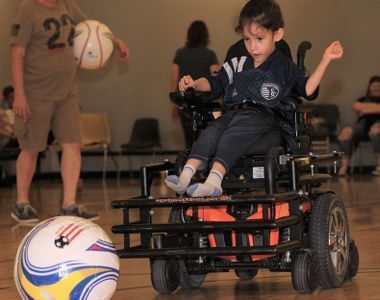 The Youth Power Soccer Sessions are four-week-series consisting of one, two-hour practice per week for four weeks.
The goals of the series are to:
Introduce the participants to the basic of power soccer
Assess the participants chair skills, ball skills, and the comprehension of the game rules and game play as the program continues to develop.
Fall 2022 Session:
Saturdays, 10:00am - 12:00pm; August 27, September 3, 10, 17.
All sessions will be held at Garrison Community Center, 1124 E. 5th St., Kansas City, MO.
The Game
Allows individuals with a variety of diagnosis in power wheelchairs to participate in a fun, recreational game of soccer
Uses the same rules as traditional soccer
Three players and a goalie make up one team
Players have guards temporarily attached to their wheelchairs and use a larger soccer ball
Participants must have swing away leg rests
Criteria
Four-wheel power wheelchair — will supply wheelchairs if needed
Power wheelchairs with center posts or swing away leg rests are welcome. If you have center post leg rests or do not normally use a power wheelchair, please contact Mobility First at 816-350-7600.
Participants must be able to independently maneuver a power wheelchair at varying rates of speed
Participants must be able to follow one-three step directions independently
For safety reasons, no cords or bags of any kind can hang from the wheelchair
Participation 
To ensure a fun and safe event, youth must be:
Ages K-18 and able to actively participate in workshop*
Seizure free for at least 2 months*
Caregiver presence needed for assistance if participant is not physically independent*
*NOTE:  Parent/guardian will need to sign a waiver before child can play. Waiver will be available at venue.
---
Waiver necessary to participate (link below)
---
Interested in the Youth Power Soccer Series?
Please fill out this form below or contact Dr. Melissa Burns, PsyD, our Adaptive Sports Program Manager, at 816-627-2220 or mburns@thewholeperson.org.