Track and Field - Adaptive Jumps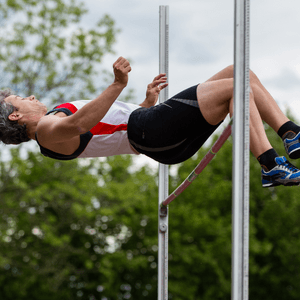 Dr. Melissa Burns through The Whole Person and Xtreme Athletics offers adaptive jumps for individuals 12 and up to try Long, Triple, High Jump, and Pole Vault.

Para-ambulatory track and field competition is open to male and female athletes with physical disabilities such as dwarfism, amputation/limb loss, blindness/visual impairment, spinal cord injury, and cerebral palsy/brain injury/stroke. An ambulatory division would include Visually Impaired, Cerebral Palsy, Dwarf, and Amputees. For photo and video examples on Paralympic jumps check out the Tokyo Paralympic Games and Paralympics Instagram page
Teammates - Jump together!
Teammates is a way for you and someone you know to come to jump together. At a discounted price, bring a para-athlete who would like to try jumps and the first session is free for the both of you. If you would also like to try blind jumping events, (all athletes wear a blindfold) this is also your chance!
All First sessions are free
Cost after: $10 a session
Teammates - $5 each
Private and semi-private (small group) lessons are available.
Before participating athletes will fill out an Xtreme Athletics wavier and TWP waiver.
If you are interested in more information, or to set up a time to come see the gym and discuss how that might look for you or your athlete, contact Coach Burns (information below).  Scheduling for private sessions with Coach Burns is open each day of the week. Times depending on daytime or evening availability.
NOTE:  A track team including wheelchair athletes is in development, along with throwing field events.
 
Waivers necessary to participate (Links below)
All participants are required to be a USATF member!
---
If you are interested in the jumps program, contact Dr. Melissa Burns PsyD, at 816-627-2220, or MBurns@thewholeperson.org, or complete the form below.
---
Adaptive Jumps with TWP and Xtreme Athletics