About the Exhibition
2021 marked the 11th Annual Expressions Art Exhibition, showcasing artists with disabilities, celebrating their abilities and unique talents.  Expressions strives to promote artists with disabilities by featuring their work in professionally organized art exhibitions and offering innovative educational and networking workshops that connect them to the broad regional creative community.
2021 Exhibiting Artists: Stone Addams, Jasmine Ali, Omar Al-Shams, Joyce Baxter, Sherri Buerky, Courtney Coy, Alex Fraser, Leslie Norman Hubble, Elise Huther. Dell Inskeep, Kim Raine Johnson, Carleigh Lavoy, April Marie Mai, Taj Moses, Kassidee Quaranta, Lynndanna Stematz and Sara Unrein.
2021 Expressions Committee: Linda Link (Co- Chairperson), Madison Wellman (Co- Chairperson), Poppy Di Candeloro, CJ Charbonneau, Meghan Dohogne, Allie Donnell, Lea Klepees, Mitch Chalk, and Anthony Trakas.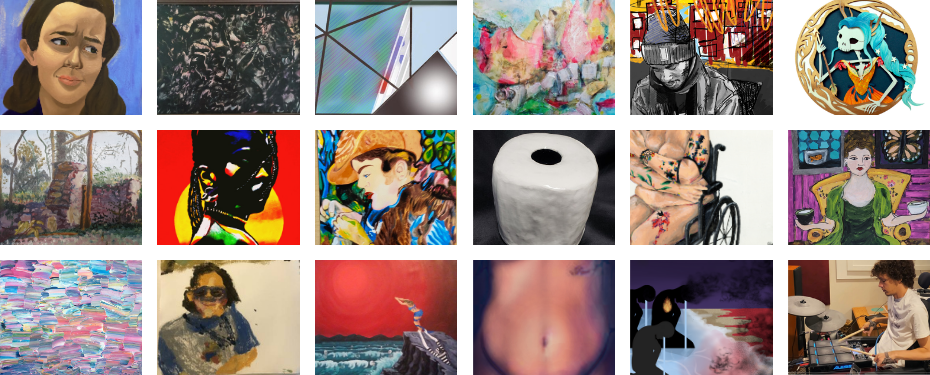 Click "2021 Exhibiting Artists" to view the work of the exhibiting artists in our 2021 Exhibition. Learn more about them by reading artist statements. Contact information is provided to connect directly with each artist.
View artwork submitted by all who applied for the exhibition.
---
2021 Expressions Traveling Exhibition Tour:
(Check back for gallery hours if not listed below)
February 2022
The Whole Person
3710 Main Street, Kansas City, MO 64111
Monday through Friday  9 am to 4 pm
March 2022
Kansas City Artists Coalition
3200 Gillham Rd, Kansas City, MO 64109
Wednesday - Saturday, 11 am - 5 pm
kansascityartistscoalition.org
---
Fiscal Year 2021/2022 Support From:
---