July Jubilee: Celebrating Independence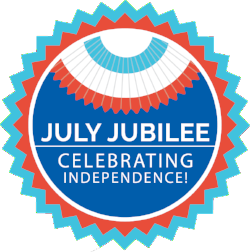 The July Jubilee is a 2-day celebration of the anniversary of the Americans with Disabilities Act (ADA).  Held annually in our parking lot at 3710 Main Street, the July Jubilee is a fun and festive community event that everyone looks forward to each year.
Main Street Music Festival
Friday, July 27, 6:00 to 11:00 pm
Live music, food trucks and vendors
Family Fun Festival
Saturday, July 28, 8:00 am to 2:00 pm
Vendors, Food, Entertainment, Sports Mascots, Special Guests & More!
Please reserve your sponsorship early to receive the greatest range of benefits.
Reserve by July 14, 2018 to receive recognition in the event program.
Benefits of Sponsorship:
Your company product or service marketed to more than 2,000 event attendees
Promotions reach thousands throughout the Greater KC area
Radio, television, newspaper, magazine promotions and poster and flyer distribution
Social media promotions
Opportunity to have employees volunteer and to network at the event and in the VIP area
Satisfaction of helping underwrite a free and positive family friendly community festival
CLICK the desired sponsorship to view level benefits and add to your shopping cart.